Here we have a most interesting collection of signage. Some low-level civil servant who's in charge of deciding what the motorist may do at this particular junction has become quite thorough in creating restrictions.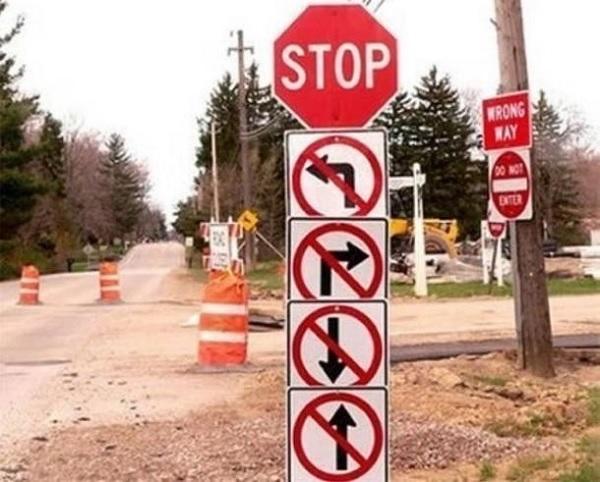 The motorist may not proceed, may not turn left or right, and, most interestingly, in the second sign from the bottom, may not reverse out. In essence, "You're stuck here and whatever you do to get out, you're in violation of the rules we've placed upon you."
Of course, if we were to encounter this particular intersection, we might say, "That's absurd – they can't possibly hold me to this."
But, interestingly, under the traffic laws, a policeman can cite us for violating the signage. If we're lucky, he might agree that it's absurd and give us a break, but his job is to enforce it, regardless of its absurdity. And if he enjoys his position of authority, as many in his position do, he just may choose to demonstrate his power.
And, if we defy him, we're in real trouble.
How many laws exist in the US today? The answer is that no one knows. It's too complex to define. There are roughly 20,000 laws regarding gun control alone – and that's just the federal laws. State, county and city laws also exist in abundance.
The level of governmental dominance now exists to such a degree that literally everyone is a criminal, whether they know it or not. It's been estimated that the average American commits about three felonies per day, in addition to many lesser crimes. If, for any reason, the authorities wished to victimize you, they'd find their task quite simple.
Yet, there's a general assumption amongst those who simply accept the laws that are heaped upon their shoulders, that they were somehow "necessary," that legislators only pass laws if they have no other choice.
In my estimation, this view is diametrically opposite to what is true. One of my own principles regarding governance is,
"It is the primary business of any government to grow its own power and wealth at the expense of its people."