Two days before his untimely death in a Manhattan jail, Jeffrey Epstein signed a will listing over $577 million in assets - around $18 million more than stated weeks ago in court filings. 
The assets were transferred to a trust as of August 8, ensuring that the details of how his fortune will be distributed are kept private. 
Epstein listed his brother Mark as the lone heir and his longtime lawyer Darren Indyke and close friend Richard Kahn as executors, according to the New York Post, which obtained a copy of the will and trust filed in the US Virgin Islands. 
That said, the document states that Mark only gets something if Jeffrey hadn't created the will. 
What's more, Epstein's heirs will have to split up whatever is left after a spate of accusers filed lawsuits against his estate. 
"It's pretty boiler-plate — it's what we call a 'pour-over will," (embedded below) an estate planning lawyer told the Post, adding "It's done that way for privacy reasons."
"What is more unusual is the date, the fact that all of this was done just days before he died," said the Post's anonymous source. "He probably knew he was going to take his own life" or may have thought "he could have been murdered in jail. He could have thought, 'I need to get my ducks in a row.'"
Epstein's personal property is broken down as follows (via the Daily Mail):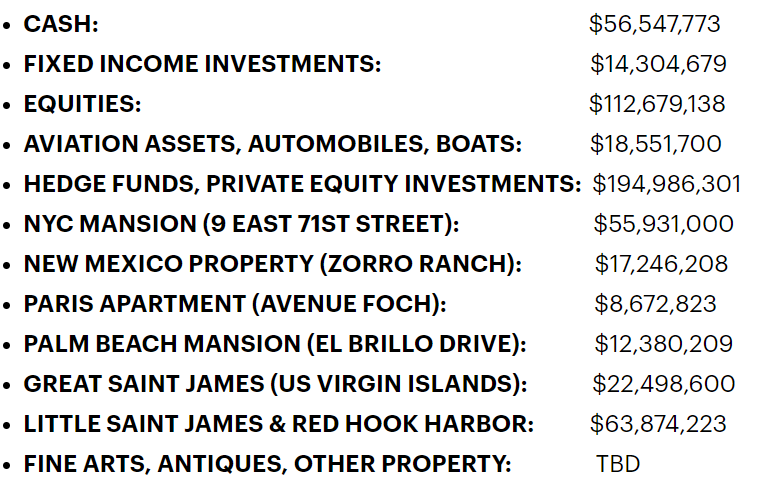 Once Epstein's other assets are factored in, his estate is likely to exceed $600 million. 
A few of those assets were noted in a court filing submitted by prosecutors for the Southern District of New York last month.
'After conferring with law enforcement agents who have reviewed the materials from the safe, the Government has learned that the safe contained more than $70,000 in cash,' read a filing by prosecutors arguing against granting Epstein bail.
'In addition, the safe contained 48 loose diamond stones, ranging in size from approximately 1 carat to 2.38 carats, as well as a large diamond ring.'
It then noted: 'The Government is currently unaware of whether the defendant maintains similar stashes of cash and/or jewels at his multiple properties, or in other locations. Such ready cash and loose diamonds are consistent with the capability to leave the jurisdiction at a moment's notice.' -Daily Mail
Epstein's last days
According to the New York Times' Ali Watkins (of letting that now-fired Senate security guy bang her for scoops fame), Danielle Ivory and Christina Goldbaum - the wealthy pedophile was trying to game the system until his dying breath, which was ruled a suicide.