But what will happen to banks and automakers when the cycle turns?
Serious auto-loan delinquencies – 90 days or more past due – jumped to 4.69% of outstanding auto loans and leases in the first quarter of 2019, according to New York Fed data. This put the auto-loan delinquency rate at the highest level since Q4 2010 and merely 58 basis points below the peak during the Great Recession in Q4 2010 (5.27%):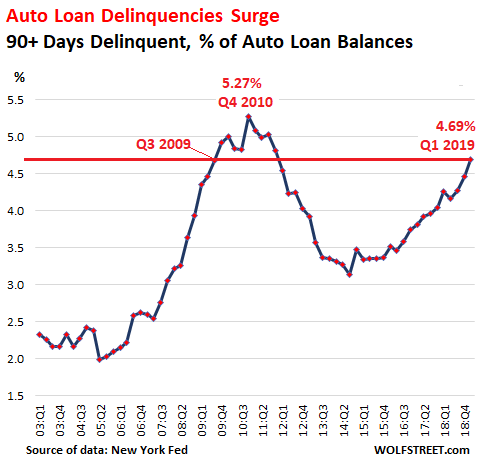 These souring auto loans are going to impact banks and specialized lenders along with the real economy – the automakers and auto dealers and the industries that support them.
This is what the banks are looking at.
The dollars are big. In Q1, total outstanding balances of auto loans and leases rose by 4% from a year ago to $1.28 trillion (this amount by the New York Fed is slightly higher than the amount reported by the Federal Reserve Board of Governors as part of its consumer credit data). Over the past decades, since in Q1 2009, total auto loans and leases outstanding have risen by 65%.
But the number of auto-loan accounts has risen only 34% over the decade, to 113.9 million accounts in Q1 2019. In other words, what caused much of the increase in the auto-loan balances is the ballooning amount financed with each new loan and longer loan terms that causes those loans to stay on the books longer.
The chart below shows the dollar amounts of auto loan balances (blue columns, right scale) in trillion dollars and the number of auto-loan accounts (red line, left scale) in millions: