And the story was quickly swept under the rug by the mainstream media.

The New York Times simply called it a "mystery" and moved on.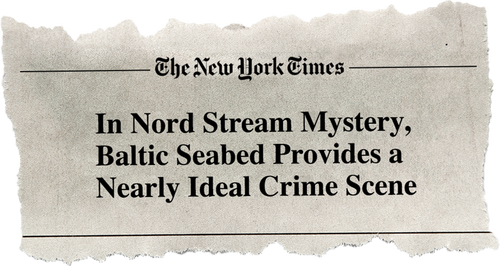 But today, there's startling evidence about what really happened – and who was really behind the whole operation.

Here's what we know for sure…
President Biden has ALWAYS opposed the Nord Stream pipeline, considering it a direct threat to U.S. energy exports to Europe
Three weeks BEFORE Russia invaded Ukraine, Biden told reporters, "If Russia invades Ukraine… there will no longer be a Nord Stream 2."
Russia invades Ukraine on Feb. 24th, 2022
Eight months later, the Nord Stream pipeline is crippled by 4 massive explosions, 240 feet below the Baltic Sea.
U.S. energy exports to Europe surge to record highs in order to meet demand, just in time for winter
And that's only the beginning…
In this new presentation, one ex-CIA insider pulls back the curtain on what really happened to Nord Stream…