The Trumps have revealed more about Monday's FBI raid of their Mar-a-Lago property.
For starters, Eric Trump told the Daily Mail that "the 30 agents who arrived at the property asked staff to turn security cameras off – and to kick their lawyer off the property, but they refused."
"They told our lawyer… you have to leave the property right now. Turn off all security cameras."
Eric also said "They would not give her the search warrant," adding "So they showed it to her from about 10 feet away. They would not give her a copy of the search warrant."
He also said that the FBI brought safe crackers in to break into his father's safe, and that agents rummaged through Melania Trump's wardrobe.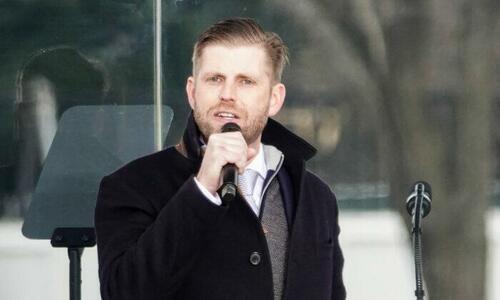 "It's all a coordinated attack with the FBI," said the former president's son, insisting that President Biden approved the raid.
"Do you think that the FBI director is going to raid the former president's house, especially a house as you know, kind of world renowned as Mar Lago is in a place as public as Mar Lago is without getting the approval of President [Biden]?"
By not turning off the security cameras, Eric said they saw the FBI raiding areas of the property that they 'shouldn't have been.'
Donald Trump lamented Wednesday that the FBI blocked his lawyers from the property during the raid at his Palm Beach, Florida residence and suggested that agents may have 'planted' evidence. -Daily Mail
Donald Trump, meanwhile, suggested in a Wednesday post to his Truth Social page that the FBI may have planted evidence.
---