By Greg Miller of FreightWaves,
When will the container capacity crunch finally ease? For an early indicator, keep an eye on production of the humble 40-foot dry cargo box. If the volume and cost of new containers pull back, supply chain pressures are abating. Unfortunately for beleaguered cargo shippers, these bellwethers now imply the opposite: that the scramble for container capacity is growing even more intense.
On Tuesday, the world's largest container-equipment leasing company, Triton International, announced record results and provided the latest intel on box production.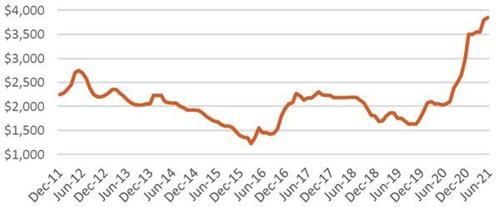 The price of a new container, which had stabilized at around $3,500 per twenty-foot equivalent unit (TEU) earlier this year, has risen again and is now at $3,800 per TEU. Prices are "at unprecedented levels," said John O'Callaghan, Triton's global head of marketing and operations, during the call with analysts.