After April's ugliness, today's Existing Home Sales data for May is the first chance to see signs of recovery in the housing market as state reopenings accelerate. Analysts, however, were not buying it, expecting a 2.1% MoM drop in the key data point, but the data did better than expected, dropping 'only' 0.9% MoM. That is the 4th straight month of existing home sales declines...
That is the weakest sales print since June 2020...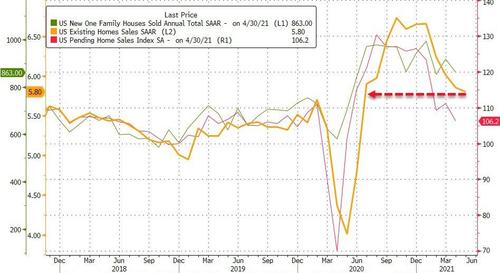 Source: Bloomberg
Home prices will likely remain elevated for some time as builders struggle to replace the deficit in existing homes with new builds. They cite high materials prices, supply shortages and a limited number of skilled workers as ongoing challenges.
The median selling price rose 23.6% from a year ago to a record $350,300 in May.