And as Wall Street banks and America's largest corporations complain about growing inflationary pressures in their sell-side research and earnings calls, the latest population update from the CDC has just confirmed that the deflationary trend of a falling birth rate continued last year in the US. In fact, one could argue this trend has been supercharged by the pandemic, thwarting theories about a lockdown "baby boom" as the number of births in the US fell by 4% in 2020, dropping to the lowest level since 1979.
Put another way: thanks to the pandemic, US birth rates have fallen to their lowest level in a generation.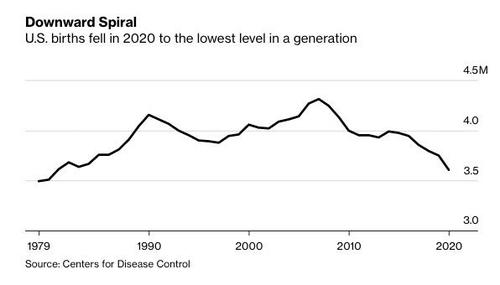 Source: Bloomberg
Birth rates dropped across every race, ethnicity and age group - even teenagers (though teenage birth rates have been falling in the US for decades), according to the data, which was published by the CDC's National Center for Health.
As we noted at the time, a shrinking population is bound to create serious challenges for China's debt-fueled economy. It's one reason to doubt President Xi's propaganda about China being "on the rise" globally.