"I felt a great disturbance in the farce, as if millions of dovish voices suddenly cried out in terror and were suddenly silenced."
Bear in mind that money-markets have been discounting a rate-hike far sooner than The Fed's dot-plot forecast would suggest for months...
"Every client call I'm on including the one I just finished ... is talking about overheating," CNBC cited BackRock's CIO Rick Rieder as saying.
So this move today is more of a wake-up call for stocks than anything else. The Dow scrambled back to unchanged (King Kong Yellen ain't got shit on me...). Nasdaq suffered its worst day since mid-March and is down 5 of the last 6 days...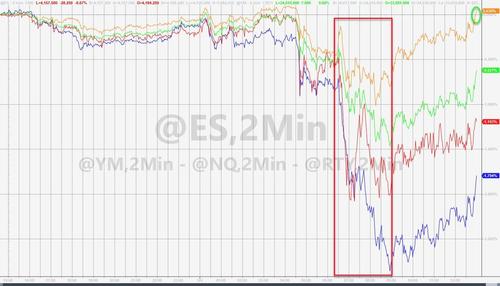 European stocks also puked...