IPFS News Link • Sanctions • https://www.zerohedge.com by Tyler Durden
The rejection of the dollar in this regard is something that has been expected for a while, and is happening now.
Russia's decades-long drive to reduce its dependence on the unpredictable US dollar reached a milestone as the share of exports sold in US currency fell below 50% for the first time ever.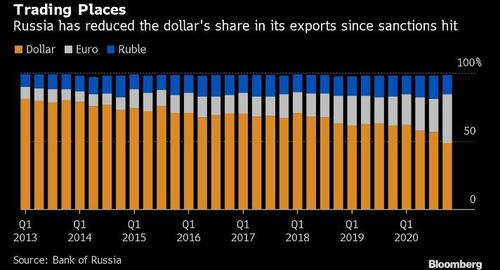 According to central bank figures released late on April 26th, the main decline in the use of the dollar occurred in Russia's trade with China: more than three-quarters of the dollar turnover was replaced by the euro. According to data for the fourth quarter, the share of the single currency in total exports jumped by more than 10 percentage points to 36%.