IPFS News Link • Housing • https://www.zerohedge.com by Tyler Durden
And while year-over-year sales are still up, the pace has collapsed as SAAR drops to a six-month low...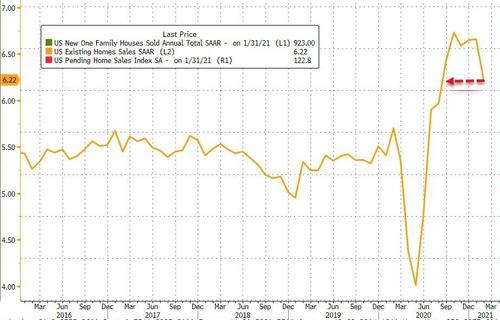 Source: Bloomberg
The number of homes for sale declined by a record 29.5% in February from a year ago, helping explain a 15.8% jump in the median selling price to $313,000. That was the highest-ever median price for that month.
Purchases of all existing homes fell in three regions, including in the South and Midwest, where the month's weather impacts were the most severe. In the South, contract closings declined 6.1% to an annualized 2.77 million, the slowest pace in five months. They dropped 14.4% in the Midwest to a 1.31 million rate, the weakest since June. Home sales fell 11.5% in the Northeast and rose 4.6% in West.