VW common shares soared as much as 29% this morning - the most since the company's historic 2008 short squeeze - and VW preferred shares were up 6% after the company upgraded its profit guidance laid out plans for expanding the company's EV offering out through 2030 which also includes dethroning Tesla as the reigning EV world champ. VW hosted its "Power Day" yesterday and revealed plans to build six "gigafactories" with a total capacity of 240 gigawatt hours per year.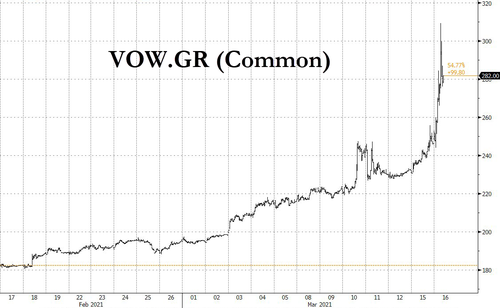 "The company is aiming to achieve an operating margin between 7% and 8% after 2021. VOW also confirmed it is looking to finish the year at the upper and of a 5% - 6.5% range in 2021. Higher profitability will be achieved through lower costs with as much as 2 billion euros savings identified for 2023 compared to 2020," according to StreetInsider. 
Chief Executive Herbert Diess said on CNBC: "This period is probably the most crucial for the whole industry. Within the next 15 years we will see a total turnover of the industry. Electric cars are taking the lead and then software really becomes the core driver of the industry."
"Electric cars already today are very, very competitive and they're becoming more competitive over time. that gives us the certainty that this is the right way going forward. Electric cars actually will bring down the cost of individual mobility further," he continued.
___________________________________________________________