Amid declining 'hard' economic data, 'soft' survey data on US manufacturing surged to a record high in January, according to Markit. But, according to ISM, Manufacturing in the US slowed in January too?
Markit Manufacturing 59.2, up from 59.1, and above 59.1 expectations to a record high.
ISM Manufacturing 58.7, down from 60.5, and below 60.0 expectations.
So take your pick!?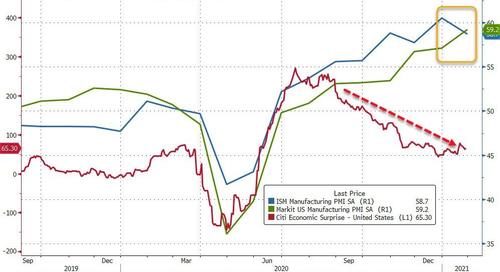 Source: Bloomberg
However, the surge in Markit's PMI was driven by intensifying cost pressures amid raw material shortages (with near-record supply chain disruption).