Update (1055ET): Having surged by the most since Lehman, topping $30 for the first time since 2013, Silver futures have been taking some heavy volume punishment since the US equity market opened.
The SLV premium to spot does not seem too out of whack here...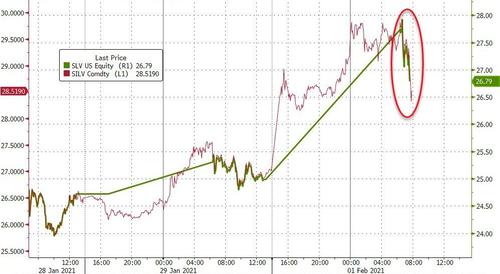 Notably, SLV volume in the first 90 minutes is the highest for a full day in a decade...
Only 90 minutes into trading and $SLV has already traded more than it has in about a decade w/ $4.6b which makes it virtual lock to to beat that monster $10b mark set in 2011 as well. pic.twitter.com/hRXExCCTGM

— Eric Balchunas (@EricBalchunas) February 1, 2021