Authored by Ben Zeisloft via Campus Reform,
Duke University public policy professor William Darity co-authored a report calling for $12 trillion in slavery reparations, amounting to $800,000 for each eligible Black household.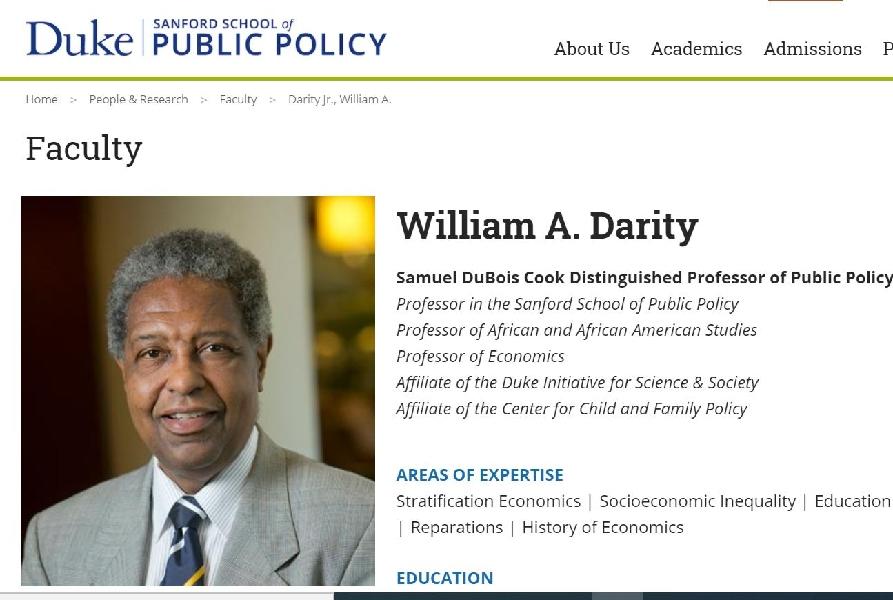 The Roosevelt Institute, a "think tank and campus network that works to move the country toward a new economy and democracy by the people, for the people," sponsored the report, titled "Resurrecting the Promise of 40 Acres: The Imperative of Reparations for Black Americans."
In the report, Darity and co-author Kirsten Mullen pointed to the U.S. government's failure to deliver on a promise to give 40 acres to every former slave. The two said that this failure is the cause of the current wealth gap between Black and White households. If this policy had been enacted after the Civil War, the authors "speculate that there would be no need to consider the case for black reparations today."
As the "culpable" party, the report said that the federal government "must pay the debt" of $10 to $12 trillion dollars in 2016 dollars. The couple arrives at this figure by calculating that a payment of $800,000 to each Black household would close the current wealth gap.
Furthermore, the authors stated that incremental reparations programs will not adequately resolve the problem of systemic racism.
"Though piecemeal initiatives are admirable in their acknowledgment of the existence of a debt, these incremental efforts will not fundamentally change the conditions of structural, racial economic inequality," Darity and Mullen said.
"Our nation must be held accountable, and the federal government must meet the debt."
To support their proposal, the authors pointed to the 9/11 Victim Compensation Fund and federal money that flowed into Newtown, Connecticut, following the Sandy Hook massacre.
"Ultimately, respect for black Americans as people and as citizens — and acknowledgment, redress, and closure for the history and financial hardship they have endured — requires monetary compensation," concludes the report.
"Moreover, an emphatic message that 'the murderers cannot inherit' will be delivered."
Campus Reform asked Darity how the government would be able to pay for the reparations without raising taxes on those who have never owned slaves. He said that there is "nowhere" in the report where raising taxes is considered an option.
"Nowhere [in the report] do we say the reparations plan must be financed by raising anyone's taxes," Darity said.