IPFS News Link • Oil • Zero Hedge - Tyler Durden
and following a historic cut to Occidental dividend, which was slashed from 79 cents to just 11 cents, the first such cut in almost three decades...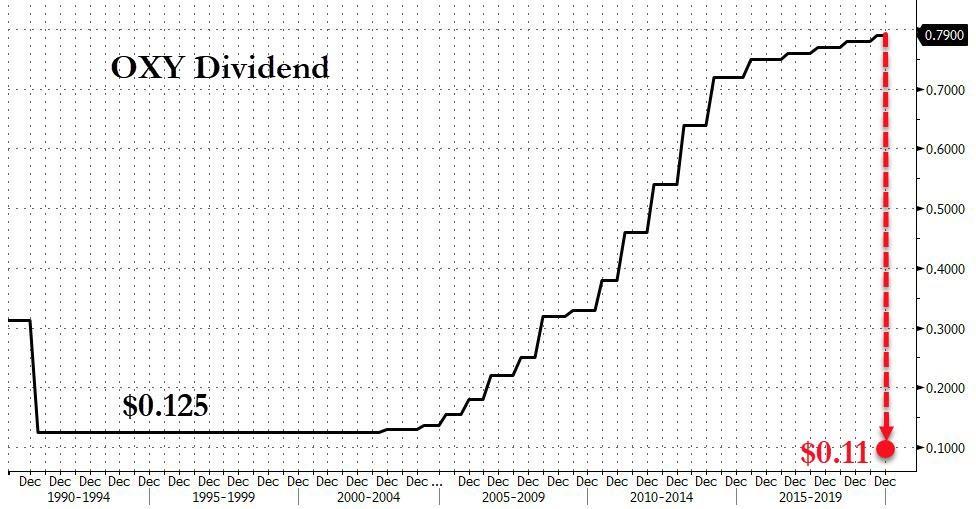 ... coupled with a massive cut to the company's capex plans, which are now expected to be just $3.5- $3.7 billion, down from from $5.2 billion to $5.4 billion, a torrent of other shale names has followed suit in announcing massive capex cuts to reflect the new price war reality:
Devon energy reduced its 2020 capex by $500MM to $1.3BN.
Murphy Oil reduced 2020 capex from $1.4-$1.5Bn to $950mm.
Aoache reduced 2020 capex from $1.6 - $1.9Bn to $1.0 - $1.2Bn
ONEOK reduced 2020 growth capex by -$500mm to $1.6 - $2.4Bn
PDC Energy cut 2020 capex of $1.0 - $1.1Bn by 20-25%
Saudi Sovereign Fund Head: Vision Fund Investment Is About the Future
It's not just US shale companies that are forced to retrench as they scramble to survive in a world where the price of their key commodity was just whacked by a third: overnight the world's largest oil producer, Saudi Aramco, announced it will slash planned spending this year in the first sign that plunging demand and the oil-price war which the Saudi unleashed are starting to hit home.
In a statement, Aramco said that its capex budget for 2020 will be cut by almost a third, and will be between $25 billion and $30 billion in 2020 as spending plans for next year and beyond are being reviewed. Prior to the cut, Aramco had expected a planned capex in the range of $35 billion to $40 billion per its IPO prospectus, and compares with $32.8 billion in 2019.