IPFS News Link • Russia • https://www.theguardian.com
Discontent and a push for political reforms have led to the largest protests in Moscow in almost a decade.
On the terrace of a recently renovated market hall overlooking Moscow's Trubnaya Square, lounge music beats played as well-dressed customers drank from bottles of craft beer or cradled glasses of Aperol spritz. Below them, as the concrete glowed in the last rays of sunshine, hundreds of riot police chased groups of young people through the square and into neighbouring streets, roughly bundling those they caught into waiting police vans. A booming voice from a loudspeaker on one of the police buses cut through the music on the terrace, threatening the protesters with arrest.
The scene – played out last Saturday as police met a protest about opposition access to the Moscow local elections with the largest number of arrests in recent Russian history – was a striking distillation of the contradictions of life under mayor Sergei Sobyanin, who in recent years has offered Muscovites an impressive programme of urban beautification while keeping extremely strict limitations on political freedom.
The protests are the biggest the capital has seen for nearly a decade. The issue of independent and opposition candidates being barred from standing in September's elections to the Moscow city parliament is relatively niche, but a broader, more existential discontent has coalesced around it. This Saturday, central Moscow was again thronged with protesters, who turned out despite the knowledge that they risked arrest, court cases and prison terms.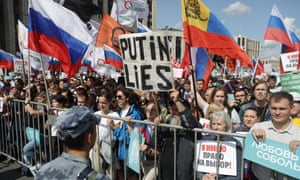 Mostly young people gather in central Moscow to demand that opposition candidates be included on ballots for local elections next September. Photograph: Pavel Golovkin/AP
Sergei Orlov, a 33-year-old IT worker, said he hadn't been to many demonstrations but had been angered by last weekend's crackdown. "My mother taught me to vote, and these elections show that even that's not possible," he said, walking with hundreds of protesters near Pushkin Square, as riot police looked on.
Rainy weather combined with the strong police response to last weekend's rally meant that the numbers of protesters were lower than had been expected. Nevertheless, the anger being expressed suggests that the bargain president Vladimir Putin allowed Sobyanin to make with Russia's capital is beginning to disintegrate, just as Putin's popularity across Russia is sliding. The aggressive line the authorities have taken could be counterproductive, but concessions may start a spiral effect that will chip away at the Kremlin's grip on power.
Leading the protests are associates of campaigner Alexei Navalny, whose team of investigators shine a light on rampant corruption among Russia's elite. Their well-documented and slickly produced videos contain allegations that are hard for the Kremlin to brush off. Punishments for Navalny's activities in recent years have included a ban on appearing on state television, repeated court cases, the jailing of his brother for several years, an attack with green paint that almost made him blind in one eye, and a refusal to allow him on to the ballot paper for the 2018 presidential election. He was jailed for 30 days last month to keep him away from this round of protests, and last week suffered what his lawyers claim could have been a poisoning attempt in jail.