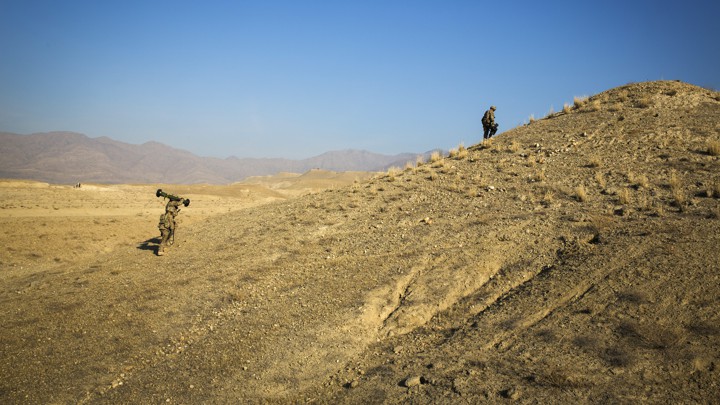 U.S. soldiers climb a hill in AfghanistanLucas Jackson / Reuters
This year, the United States marks 18 years of combat in Afghanistan. We remember and honor the more than 2,300 brave U.S. service members who made the ultimate sacrifice and the over 20,000 who have been wounded in action. We thank the courageous men and women in uniform who are still abroad, a world away from their homes and families, fighting this war.
Soon, we will reach a watershed moment in Afghanistan, as American soldiers begin deploying to fight in a war that began before they were born. As we meet this solemn milestone, we must reexamine our approach to the longest war in the history of the United States and reconsider whether keeping tens of thousands of troops on a sprawling mission in Afghanistan will make Americans any safer going forward. And we must listen to the American people, who—overwhelmingly—oppose endless war in the Middle East.
That's why we recently introduced a bipartisan joint resolution, the American Forces Going Home After Noble (AFGHAN) Service Act, to return our combat forces home from Afghanistan in an orderly and responsible way, while also setting a framework for political reconciliation in Afghanistan without a permanent U.S. presence.
It's not the first time we've issued this call. In 2011, President Barack Obama proposed pulling all regular combat troops out of Afghanistan by 2014. "It is not too late to change course," we wrote at the time, calling on the president to accomplish his goal by the end of 2012. It's now 2019—and our forces are still deployed in Afghanistan.
U.S. soldiers climb a hill in AfghanistanLucas Jackson / Reuters