IPFS News Link • Venezuela • https://apnews.com/038d186812944352b7f98d68f341a4d
MARACAIBO, Venezuela (AP) — In a city once called the Saudi Arabia of Venezuela for its vast oil wealth, residents of Maracaibo now line up to buy spoiled meat as refrigerators fail amid nine months of rolling power outages that recently got worse.
Some people fall ill eating the rotten beef, but at bargain prices, it's the only way they can afford protein as the country's crisis hits bottom.
"It smells a little foul, but you rinse it with a little vinegar and lemon," said Yeudis Luna, a father of three young boys buying darkened cuts at a butcher shop in Venezuela's second largest city.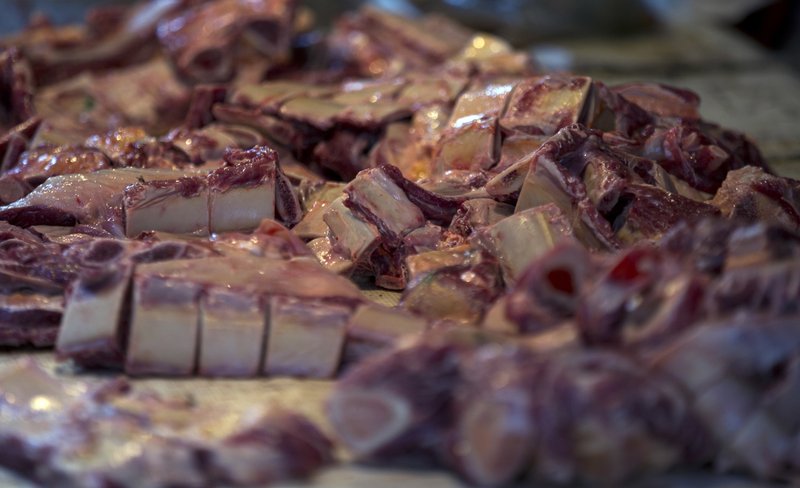 Spoiled meat due to rolling blackouts sits for sale at a market in Maracaibo. (AP Photo/Fernando Llano)
Venezuelans are enduring the worst economic downfall in the oil-rich country's history. Basic services like running water and electricity have become luxuries.
Socialist President Nicolas Maduro blames the strife on an economic war waged by the United States and other capitalist powers. The governor of Maracaibo's Zulia state, Omar Prieto, recently said the rampant blackouts were being repaired, but relief has yet to come.
The sprawling port city of Maracaibo on the banks of a vast lake once served as a hub of Venezuela's oil production, producing roughly half of the nation's crude that was shipped around the world.
A bridge over Lake Maracaibo stands as a reminder of better times. The eight-kilometer (five-mile) long structure built five decades ago once glowed at night with thousands of lights, linking the city with the rest of Venezuela. Maracaibo was clean and bustling with international restaurants.