I'm not sure how to break this to you, but it appears the world is ending this weekend. Or at least that's what you'd believe if you were reading certain corners of the internet.
As you may have already heard, the UN is "taking over the internet" this weekend. But as you've also heard if you follow The Corbett Report, that is a complete misrepresentation of what is really happening. Worse, hyperbole about a "UN takeover" of the internet obscures the real solution to ICANN and the centralized DNS system.
But there's another "end-of-the-world" event taking place this weekend that you might not have picked up on: the SDR.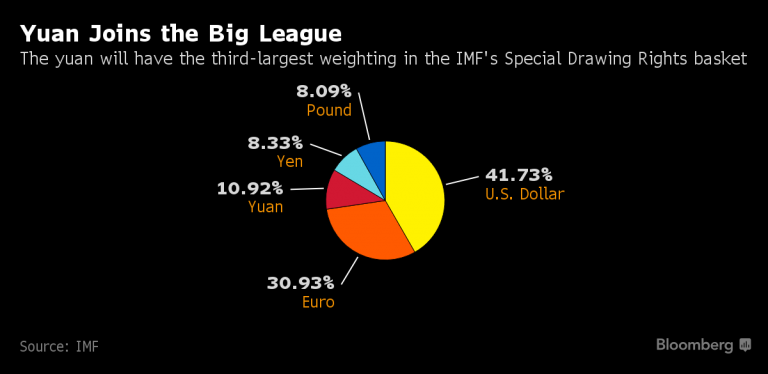 That's right, the IMF is formally adding the Chinese renminbi (aka the yuan) to their "Special Drawing Rights" basket on Saturday, October 1st. The move boosts the yuan to the status of global reserve currency alongside its basketmates, the pound, the euro, the yen and the dollar. At 10.92% it will be the third highest-weighted currency in the basket, behind the euro at 30.93% and the dollar at 41.73%.
For those who missed my previous reporting on the SDR and the significance of the yuan's inclusion, here's the primer:
The SDR is not a currency, but a potential claim on dollars, yen, euros, pounds, and now yuan.
It is issued by the IMF and held (and traded) as a "supplementary reserve asset" by central banks.
There are 204 billion SDRs outstanding, equivalent to $285 billion or about 2.5% of total global reserves.
The upshot of the SDR is that it provides liquidity for global transaction settlement in times when dollars and gold are in scarce supply. Inclusion of a currency in the SDR basket means that there is a built-in demand for that currency as central banks tend to match their currency holdings to the basket's weighting, meaning that central bankers around the world are now (or have already) adjusted their aggregate holdings of yuan to about 10.92% of their portfolio. With $11.6 trillion of reserves globally, that equates to over $1 trillion worth of yuan being held in central bank coffers around the world.
More than that, the move is expected to boost investment in the yuan from both FX reserve managers and global portfolio managers. The FX inflows alone have been estimated at as much as $3 trillion in the coming years, with onshore bond buying accounting for a further $1 trillion of expected foreign investment.