U.S. officials were scrambling to heighten security at airports and train stations — and were asking passengers to be alert — after a shocking series of terror bombings ripped through a Brussels airport and one of the city's metro stations Tuesday.
In the U.S., officials in New York, Washington, D.C., and Los Angeles said they were ramping up security in response to the deadly bombings that killed at least 31 people and wounded more than 100 more.
Security was stepped up throughout New York City on Tuesday following the explosions in the Belgian capital.
"The New York City Police Department is closely monitoring the situation in Belgium and is in close contact with our international partners and with the FBI," the NYPD said in a statement.
In D.C, the Metro authority released the following statement:
The two airport blasts, at least one of which was blamed on a Islamic suicide bomber, left behind a chaotic scene of splattered blood in the departure lounge as windows were blown out, ceilings collapsed and travelers streamed out of the smoky building.
About an hour later, another bomb exploded on a rush-hour subway train near the European Union headquarters. Terrified passengers had to evacuate through darkened tunnels to safety.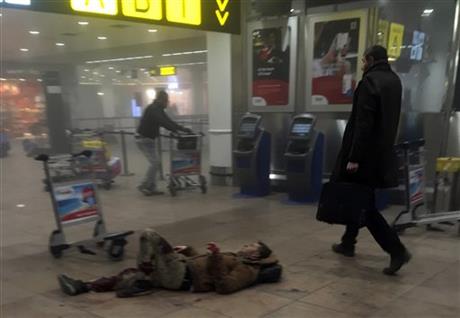 At the nearby NATO headquarters, Jens Soltenberg, secretary general of the alliance, told Military.com, "At the present time, we have accounted for all our U.S. military members who were in the region at the time of the attack."
Soltenberg went on, "We have decided to increase the alert state at NATO Headquarters. We remain vigilant and continue to monitor the situation very closely."
"What we feared has happened," Belgian Prime Minister Charles Michel told reporters. "In this time of tragedy, this black moment for our country, I appeal to everyone to remain calm but also to show solidarity."
Belgium raised its terror alert to the highest level, diverting planes and trains and ordering people to stay where they were. Airports across Europe and the United States immediately tightened security.
"We are at war," French Prime Minister Manuel Valls said after a crisis meeting called by the French president. "We have been subjected for the last few months in Europe to acts of war."