A blogger known for his atheist views has been stabbed to death in Bangladesh, in the latest of a series of attacks on independent writers in the developing south Asian nation.
Washiqur Rahman, 27, died of serious injuries inflicted in the assault on Monday morning in Dhaka, the capital.
Police have arrested two men for the murder, which comes just weeks after an American atheist blogger was also killed in Dhaka, in a crime that triggered international outrage.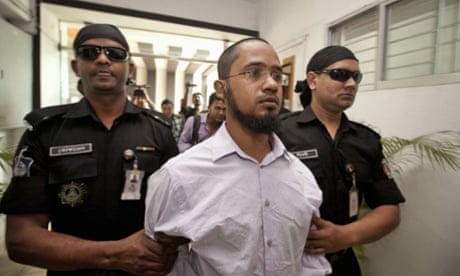 Bangladesh authorities arrest man over atheist blogger's murder
Read more
Local police chief Wahidul Islam told Agence France-Presse the victim had been "brutally hacked to death this morning with big knives just 500 yards [460 metres] from his home at Dhaka's Begunbari area."
Islam said the two detained men were arrested immediately after the attack as they tried to flee the scene.
The suspects have so far been identified as Zikrullah, said to be a student at a religious school near the city of Chittagong, and Ariful Islam, who police say was studying at the Darul Ulum religious school in Dhaka. Police are hunting a third man.
"Those who killed him differed on his ideologies about religion. He was not an atheist. He was a believer. But the way he followed religion was different from the way radical groups insist," Biplob Kumar Sarkar, deputy commissioner of the Dhaka Metropolitan Police told the Guardian.
One social media activist said that he used to write "against religious fundamentalism".
"It appeared Rahman used to write using a pen name, Kutshit Hasher Chhana [Ugly Duckling]," Imran Sarker, head of the Blogger and Online Activists Network in Bangladesh, said. "He was a progressive free thinker and was against religious fundamentalism."
Ibrahim Khalil, a fellow blogger who knew Rahman through events they organised, said Rahman was a "progressive" who wrote against religious extremism and repression of ethnic minorities.
"I can say he was a very humble man," Khalil said.
The Dhaka Tribune reported that the dead man was a member of eight Facebook group pages including Atheist Bangladesh.
Rahman, who worked at a travel agency as an IT manager, is the third such blogger to have been murdered in the Muslim-majority country in the past two years.
Police have also arrested a suspect over the killing in February of American atheist writer and blogger Avijit Roy.
Roy, an engineer of Bangladeshi origin, was killed by machete-wielding assailants near Dhaka University as he and his wife were returning from a book fair last month. His wife, Rafida Bonya Ahmed, suffered head injuries and lost a finger. She later returned to the US for treatment.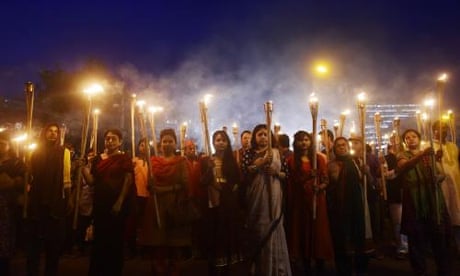 Atheist blogger Avijit Roy 'was not just a person … he was a movement'
Read more
"While Avijit and I were being ruthlessly attacked, the local police stood close by and did not act," Rafida told Reuters.
Roy's death sparked uproar at home and abroad, with hundreds of secular activists protesting for days to demand justice. They also criticised the country's government for not doing enough to protect secularist writers.
An adviser to Sheikh Hasina, the prime minister, appeared in comments earlier this month to pass the blame for the murder of Roy on to the police.
"Identify the black sheep among the force and bring them under law and justice to uphold your image," HT Imam told senior officers.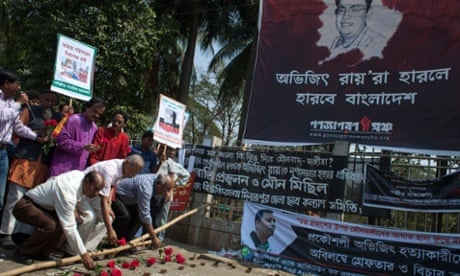 Bangladesh seeking police 'black sheep' on duty when US blogger was killed
Read more
A suspect in the killing, named as Farabi Shafiur Rahman, had previously threatened Roy several times, including on Facebook, where he said Roy would be killed upon his arrival in Dhaka. Rahman was arrested in 2013 for making threats to a cleric for administering Islamic funeral rites to another atheist blogger, Ahmed Rajib Haider, who was murdered.
Media group Reporters Without Borders rated Bangladesh 146th among 180 countries in a ranking of press freedom last year.