James Lee (Climate Viewer) provides an update on weather modification, climate change, The Environmental Modification Accountability Act #ENMODAA, etc...Diane Douglas (AZ Superintendent of Public Instruct '15-'18) on the letter she wrote to the Maric
Media Type: Audio • Time: 117 Minutes and 3 Secs
---
Hour 1 - 3
Media Type: Audio • Time: 117 Minutes and 3 Secs
NO VIDEO TODAY DUE TO TECHNICAL LIMITATIONS...
Hour 1 - Ernest goes over the headline news on Freedom's Phoenix and Top Tech News; Jay Noone comes in studio - he has pork to sell! Contact him if interested
Hour 2 - James Lee (Climate Viewer) provides an update on weather modification, climate change, The Environmental Modification Accountability Act #ENMODAA, etc...
Hour 3 - Diane Douglas (AZ Superintendent of Public Instruction 2015-2018) on the letter she wrote to the Maricopa (AZ) County Supervisors on the mask and lockdown nonsense
-30-
Watch live stream:
Front page of Freedom's Phoenix – player on top left: https://www.freedomsphoenix.com/
https://flote.app/LoveBusLibertyTour,
https://dlive.tv/ErnestHancock,
ARCHIVED VIDEOS ON FLOTE (works on Chrome browser), DTUBE, BITCHUTE
Hour 1
Jay Noone comes in studio
Jay is a free-stater who is living in a state of preparedness. He has pork to sell! If interested, please contact him (if you don't have his info, please call Donna at 602-828-1819)
==============================
TOPIC(S) discussed on the show
VIDEO: Concord Police VS Parents at Playground
by Ian | Apr 26, 2020
https://freekeene.com/2020/04/26/video-concord-police-vs-parents-at-playground/
Concord police have ignored groups of protestors at the state house but are more than happy to target a small group of parents at a local playground, when called to scene by a local cowardly snitch. Thankfully, this is New Hampshire and the parents, as yet unidentified in this video originally posted to social media, give the police hell in response! If only more people pushed back like this against government gangsters.
The parents rightfully call the police "NAZIs" and "robots" and get the costumed people to admit that someone had called and snitched on the families for being at the playground. As you might expect, the cops lie to the parents, claiming they have to investigate if called. However, that's not true as police have discretion and can choose to do nothing. Claiming they are obligated to investigate is a common lie by police to justify harming peaceful people. At the end of the amazing video, the male cop tries to propagandize the parents about COVID-19 and one lady starts coughing – the cops then finally leave – it's hilarious!
Kudos to these parents for calling out the police and recording video of their thuggish behavior. Thank goodness some people are standing up for freedom here in New Hampshire. Those of us who don't want to live in fear – as the state and mainstream media are demanding – need to let our voices be heard. I don't want to live in an insane medical authoritarian nightmare state, what about you?
---
Hour 2
Hour 2 - James Lee (Climate Viewer) provides an update on weather modification, climate change, The Environmental Modification Accountability Act #ENMODAA, etc...
-30-
Hour 2
James Lee
Climate Viewer
Webpages:
https://weathermodificationhistory.com/
https://climateviewer.com/enmod/
https://www.youtube.com/c/JimLee-ClimateViewer
I am Jim Lee and I help people understand complex ideas by creating maps, timelines, articles, and lectures. I am going to talk about Pollution, Privacy and Propaganda every chance I get because they interest me, affect us, and I care about our Planet. ClimateViewer News is my blog and the central location for all of my research.
Jim Lee, creator of ClimateViewer
I am forever a Boy Scout, lifetime artist, nocturnal programmer, music is my life, love is my religion, and I am the luckiest husband and father on Earth. I speak for the trees. I have a passion for mapping, magnets, and mysteries.
I have devoted the last seven years of my life to understanding and reporting the truth about the lengthy history of weather modification. I represented people like myself at the EPA's hearing on aviation pollution in August 2015, lectured at Ed Griffin's conference Global Warming: An Inconvenient Lie in December 2016, and my research has been referenced on many prominent websites, including the Comprehensive Nuclear-Test-Ban Treaty Organization (CTBTO), Canadian Geophysical Union, MIT, Harvard, and the United Nations.
I created ClimateViewer News to:
POLLUTION: Map polluted locations worldwide, gather facts on those affected, and use those facts to combat polluters' public relations (PR).
PRIVACY: Raise awareness of technology used to monitor, mock, and silence activists who dare attempt to combat climate change, today.
PROPAGANDA: Educate others on perception management, public relations, and other mass media mind-control techniques used against you, the reader.
I created ClimateViewer 3D to map pollution worldwide, from the depths of the ocean to any part of our atmosphere. CV3D is an open-source geophysical monitoring map with live imagery on a gorgeous 3D globe. CV3D features an encyclopedic list of exclusive maps resulting in thousands of hours of personal educational bliss not found anywhere else on the internet, let alone in one place.
I have compiled the largest volume of geoengineering and weather modification history into one massive timeline, complete with lists of companies, patents, sponsors, and laws: Weather Modification History. WMH is an international effort lead by me and Domenic Marrama, combining both investigative journalists' superpowers to create an unparalleled online repository of factual references in chronological format.
I am a self-taught web page and graphics designer, music lover, and traditional artist. I researched, designed, and coded everything on my four websites at night while my children sleep.
ClimateViewer is a family-owned business. I have been happily married for 18 years. We raise our two beautiful daughters, take care of my wife's grandmother who has end-stage Alzheimers, and we are trying to build a small homestead. We live simply, happily, and we are free.
=============================
https://climateviewer.com/enmod/
The Environmental Modification Accountability Act #ENMODAA
A draft legislation to end atmospheric modification without notification and sensors to detect weather warfare.
An Act
To End Atmospheric Experimentation Without Notification
Desiring to prohibit effectively military or any other hostile use of environmental modification techniques in order to eliminate the dangers to mankind from such use, and recognizing the Environmental Modification Convention of 1976, it shall be law that any individual or organization shall give prior notice of intent to modify weather or climate in order to determine if such actions are hostile or result in monetary, environmental, or physical losses.
Further, this Act shall require the creation of a weather modification detection system consisting of sensors capable of determining the difference between inadvertent and intentional weather modification.
1. Create an International Registry of Atmospheric Experimentation (IREA) events:
a. Registry must be publicly available on a website as well has available in hard-copy.
b. Registry should include: Intention (snowpack augmentation, rainfall enhancement, hail mitigation, etc), funding source(s), operator, area of effect, hours of operation, and duration of event.
2. Require nations/states/persons to notify the IREA (at least) 48 hours prior to initiation of Atmospheric Experimentation to ensure public notice, and liability should said experimentation/modification cause monetary, environmental, or physical losses.
3. Verify the composition of our atmosphere (chemical, aerosol, gases, and electromagnetic activity) by creating both citizen-powered and government-sponsored sensor networks with data publicly available and displayed in real-time
a. Create an atmospheric sensor network for verification of the IREA by unifying worldwide weather data for easy transmission, dissemination, and processing.
b. Provide support for the creation of a citizen-powered sensor network to augment and/or validate the sensor network mandated by this Act.
Definition
Atmospheric Experimentation: Any act with the purpose of studying or modifying weather or climate, however small, using the following techniques:
1. Release of chemicals
a. Cloud Seeding
b. Sounding Rockets
c. Tracer Experiments
2. Modification of pollution sources
a. Alteration of Effluent Stacks
b. Jet Fuel Doping (Contrail-Induced Cirrus)
c. Use of Bunker Fuel (Ship Tracks)
d. Any other technique that results directly in cloud creation or control.
3. Electromagnetic or Sonic Energy
a. Ionospheric Heaters
b. Lasers
c. Cloud Ionizers
d. Resonance Technology
e. Any other technique that modifies
1. atmospheric rivers
2. jet streams
3. pressure zones
4. ionosphere
4. Any other technique that intentionally alters temperature, rainfall, cloud cover, or any other measureable change in climate or weather.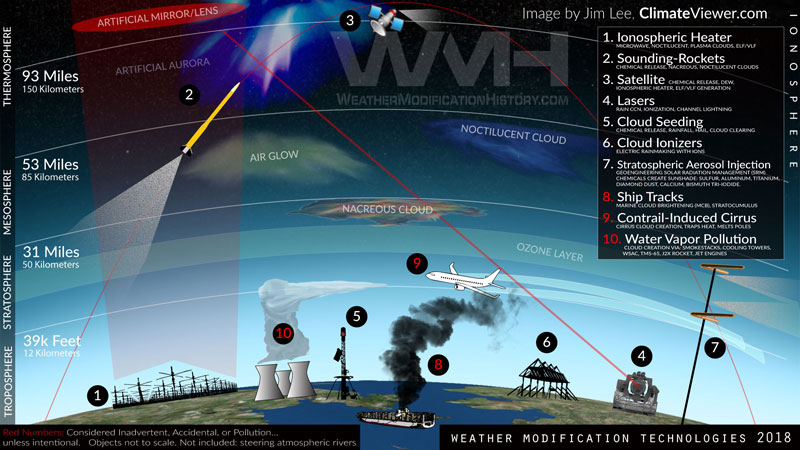 SUPPORT CLIMATEVIEWER
==========================================
The Incredible Shrinking Man, Surgery, and Grave's Disease
https://www.youtube.com/watch?v=bbqkAeSOSAE
I have lost over 30 pounds and I will be having a full thyroidectomy soon. I have battled Grave's Disease (hyperthyroidism) for 11 years and I am ready for the pain, anxiety, and insomnia to stop. Please pray for me and donate if you can. This is not the end. This is the beginning!
DONATE: https://www.paypal.me/climateviewer
I have lost over 30 pounds and I will be having a full thyroidectomy soon. I have battled Grave's Disease (hyperthyroidism) for 11 years and I am ready for the pain, anxiety, and insomnia to stop. Please pray for me and donate if you can.
This is not the end. This is the beginning!
===========================
Show notes:
All weather data is derived from this source: https://www.unidata.ucar.edu/software/awips2/
https://www.unidata.ucar.edu/software/awips2/
AWIPS (Advanced Weather Interactive Processing System) is a meteorological display and analysis package originally developed by the National Weather Service and Raytheon, modified and repackaged by Unidata to support non-operational use in research and education by UCAR member institutions.
---
Hour 3
Hour 3 - Diane Douglas (AZ Superintendent of Public Instruction 2015-2018) on the letter she wrote to the Maricopa (AZ) County Supervisors on the mask and lockdown nonsense
-30-
Hour 3
Diane Douglas
Arizona Superintendent of Public Instruction 2015-2018
Diane Douglas has always been passionate about the American education system and has been actively involved in Arizona's education landscape for over twenty five years. Her interest started with her daughter's education and has continued with her grandson. Advocating and protecting parents' rights to direct the education of their children has been one of her highest priorities throughout her years of service.
As the leader of the Arizona Department of Education, former Superintendent Douglas was devoted to improving education in Arizona so that all Arizona's children have the opportunity to reach their goals in life and contribute as successful American citizens. She believes the only way to accomplish this goal is to return education to its original purpose - the acquisition of knowledge through a classical education. To this end she attempted during her tenure to bring the Hillsdale Barney Charter School standards to all the schools in Arizona.
Former Superintendent Douglas is proud to have served two terms on the Peoria Unified School District Governing Board, including two years as President of the Board. During her tenure she worked to advocate for the district's parents and taxpayers in delivering an excellent education to all of its students and oversight of taxpayers' dollars. She has also served on the Site Councils for two Peoria Unified schools and on the Board of Education for church education programs.
Prior to her advocacy and leadership in education issues, Superintendent Douglas graduated from Rutgers University and had a distinguished career as a financial expert for a variety of private sector firms.
Diane served on the advisory board of Public School Exit
https://www.publicschoolexit.com/
==================================================
Here are some article from Diane...
1. Medical Freedom in the Land of the Free PDF
2. Vaccine Debate About Parents Versus Profiteers PDF
3. There is NoSuch Thing as "Safe" Sex for Kids3.0 PDF
4. There is No Such Thing as "Safe" Sex for Kids 2.0 PDF
5. There is No Such Thing as "Safe"Sex for Kids PDF
========================================================
Topic for today:
Maricopa County Supervisors Need To Discuss Public Concerns In Public
OPEN LETTER TO THE MARICOPA COUNTY BOARD OF SUPERVISORS
https://arizonadailyindependent.com/2020/09/20/maricopa-county-supervisors-need-to-discuss-public-concerns-in-public/
September 20, 2020 Diane Douglas, Arizona Superintendent of Public Instruction 2015-2018
Maricopa County Board of Supervisors
Dear Chairman Hickman, Vice Chairman Sellers, Supervisors Chucri, Gallardo, Gates,
For three months we have now lived under the environment that has been created within Maricopa County – our communities – by your "mask regulations." It is one which has needlessly turned citizen against citizen, neighbor against neighbor, business owners against their customers. People who are unable to wear masks and those who are unwilling to forfeit their God-given liberties are at times being verbally assaulted by their fellow citizens and oft times harassed at the very businesses they wish to – need to – patronize, as well as being under the threatened of civil "penalties."
While I don't deny the existence of Covid-19 we now know, and knew even before the "mask mandate" was imposed in mid-June, that the "threat" to the general population was greatly overblown. We had examples from Arizona, as well as all across the nation, of the manipulation of the data. But now are we beginning to realize that the cost of the unforeseen consequences of lockdowns and masks both to the wellbeing and to the very lives of the citizens of our county, our state and our country will far exceed that of the Covid virus itself.
However what I personally find most reprehensible is the abuse that is being foisted upon our precious children and grandchildren. Our children whose schools have reopened or who are in daycare are suffering; not being allowed to sit with their friends at lunch or play together during recess or study together in their classrooms and perhaps being punished if they don't strictly adhere to such draconian measures that many are too young to understand; basically being incarcerated in the same room, possibly, at some schools, in little acrylic prison cells around their desks for hours on end.
What I find unforgivable (by virtue of my vote now and in the future should any of you run for any office where I am a voter) is imposing a, scientifically unsubstantiated, "mask mandate" which cowardly governing boards feel compelled to enforce. That young children, in your perfect mask world children as young as two, are being forced, oh excuse me, "reasonable" expected to wear masks in public "spaces" such as schools and daycares. They are unable to see the faces of their teachers, friends and classmates, read their expressions, see the happiness or perhaps the sadness on their faces. The potential for long term emotional damage being imposed on our children at the hands of elected and school officials whom we/they are supposed to be able to trust is incomprehensible and unacceptable.
We are now seeing the instances of depression, suicidal thoughts, drug and alcohol abuse all increasing in our children and grandchildren because of the governor's lockdown of our state. But honestly ask yourselves – how much does your "mask mandate" exacerbate these problems in our youth??
If I am mistaken excuse me but as of this afternoon the only agenda posted under "Meeting & Agendas – Upcoming" reads "Vote to convene in Executive Session to consider the items on the Executive Agenda dated Monday, September 21, 2020, for Board of Supervisors and relevant Special Districts pursuant to the statutory authority listed for each item." The executive agenda is not posted under upcoming meetings and the "items" are undisclosed. There is a MC BofS "Executive Meeting Agenda" posted on social media (which certainly appears to be authentic but is not posted the MC BofS website under upcoming meetings) indicating the agenda items are to be the "County Response to Covid-19; Mask Regulations" and "Elections: Early Ballot Voters; Election Day Procedures." Both are subjects of great interest to our community; neither of which are discussions that should be concealed from the community. It is questionable if either is legal to be discussed behind closed doors except for the "legal advice" loophole in statute but certainly not without a legally posted agenda.
All that being said, anyone who wishes, for themselves or their children, to do so can and should continue to wear a mask now and forever if they so desire. As for the rest of us, we have a God-given right to make that choice as well for ourselves and our children.
I respectfully request that the Maricopa County Board of Supervisors cancel the executive session scheduled for Monday, September 21, 2020 to discuss the "mask mandate" behind closed doors. Please conduct your discussion and engage the community you serve during a lawful, public meeting and vote to rescind the "mask mandate" sooner rather than later.
Thank you for your consideration and your service.
Respectfully,
Diane M. Douglas
AZ Superintendent of Public Instruction 2015-2018