James Corbett (The Corbett Report) on a variety of world news headlines - Dr Judy Mikovits (PhD Molecular Biology) on recent corruption surrounding vaccines; Truth and Transparency Protest and Conference; One Conversation Public Health and Immunity C
Media Type: Audio • Time: 196 Minutes and 0 Secs
Media Type: Audio • Time: 49 Minutes and 23 Secs
Media Type: Audio • Time: 87 Minutes and 00 Secs
---
Hour 1 - 3
Media Type: Audio • Time: 196 Minutes and 0 Secs
Hour 1 - James Corbett (The Corbett Report) on a variety of world news headlines
Hour 2 - Freedom's Phoenix Headline News
Hour 3 - Dr Judy Mikovits (PhD Molecular Biology) on recent corruption surrounding vaccines; Truth and Transparency Protest and Conference; One Conversation Public Health and Immunity Conference
CALL IN TO SHOW: 602-264-2800
-30-
Letters of Marque Paperback
AVAILABLE ON AMAZON NOW BY CLICKING HERE!
Letters of Marque Paperback – September 25, 2018
by Marque dePlume (Author)
"The Crown calls it 'piracy' to explore frontiers beyond its grasp. So the time has come to define the conduct among pirates." Captain Marque
http://pirateswithoutborders.com/
Join us 'Above the Grid'
================================
October 3rd, 2018
Declare Your Independence with Ernest Hancock
on LRN.FM / Monday - Friday
9 a.m. - Noon (EST)
Studio Line: 602-264-2800
Hour 1
James Corbett
The Corbett Report
Webpage: CorbettReport.Com
James Corbett (The Corbett Report) on a variety of news headlines including our driverless future, Ptech, #FreeRoss, 3D Printed Guns, Peace Disease, SPLC,Trump/Putin, NATO, Economy, etc..
James's previous interviews on the Declare Your Independence with Ernest Hancock Radio Show:
https://www.freedomsphoenix.com/Guest-Page.htm?No=01092
============================
JAMES CORBETT'S LATEST VIDEOS…
https://www.corbettreport.com/category/videos/
Lockheed Martin Are F@%&ing Idiots – #PropagandaWatch
Corbett • 10/02/2018 • 22 Comments
The good folks at Lockheed Martin kindly invited you to submit your photos of their wonderful products . . . until they realized that wasn't such a good idea. Because they're blithering idiots. Don't be afraid to laugh at them.
Did Eugenics Fake Its Own Death? – Questions For Corbett
Corbett • 09/29/2018
This time on Questions For Corbett: Did eugenics fake its own death? Why was KAL 85 ordered to squawk a hijack code on 9/11? Will deep fakes make people more skeptical of authority? And can you download Corbett Report videos directly from the website? Join James for the answers to these and other burning questions.
Drones For Taxes, Lion King Gun, Mockingbird Nicaragua – New World Next Week
Corbett • 09/28/2018
The fake establishment lapdog corporate crony mockingbird mouthpiece dinosaur media has finally learned that no one pays attention to the fake establishment lapdog corporate crony mockingbird mouthpiece dinosaur media anymore. This is humorous, but also worrying. James Corbett discusses what it feels like now that the Eye of Sauron is gazing directly at The Corbett Report in his latest installment of Financial Survival with Melody Cedarstrom.
Meet James Corbett, Political Extremist!!! #PropagandaWatch
Corbett • 09/25/2018 • 84 Comments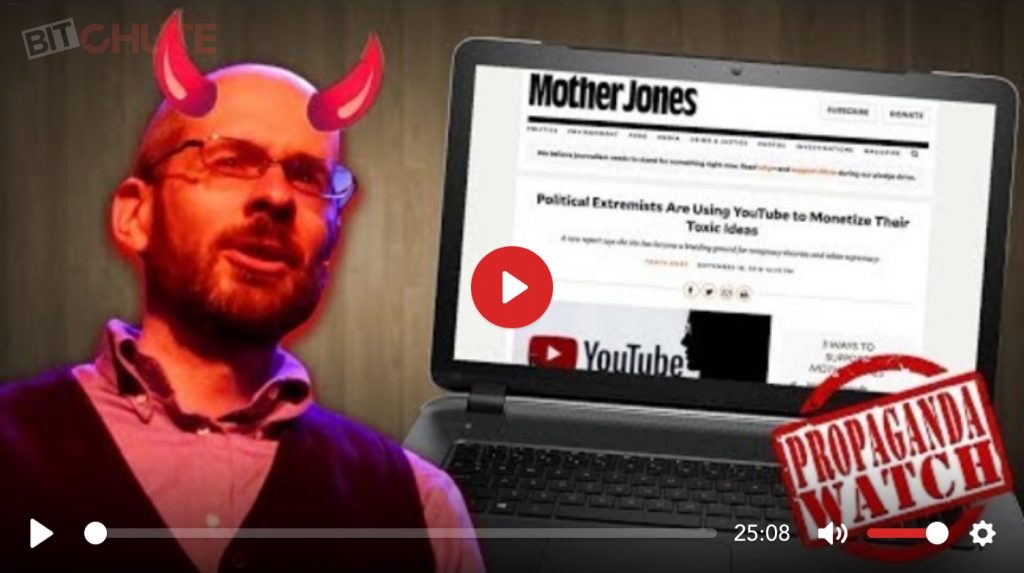 Imagine you're a high school student doing a homework assignment on the Federal Reserve. You go to YouTube and type in "Federal Reserve" in the search bar and find "Century of Enslavement: The History of the Federal Reserve." The horror! Luckily, you don't have to worry about that, because now that MSNBC and Mother Jones have ganged up, it's being scrubbed from the search results! Welcome to the world of soft censorship, folks!
The Dinosaur Media Learns of its Own Extinction
Corbett • 09/23/2018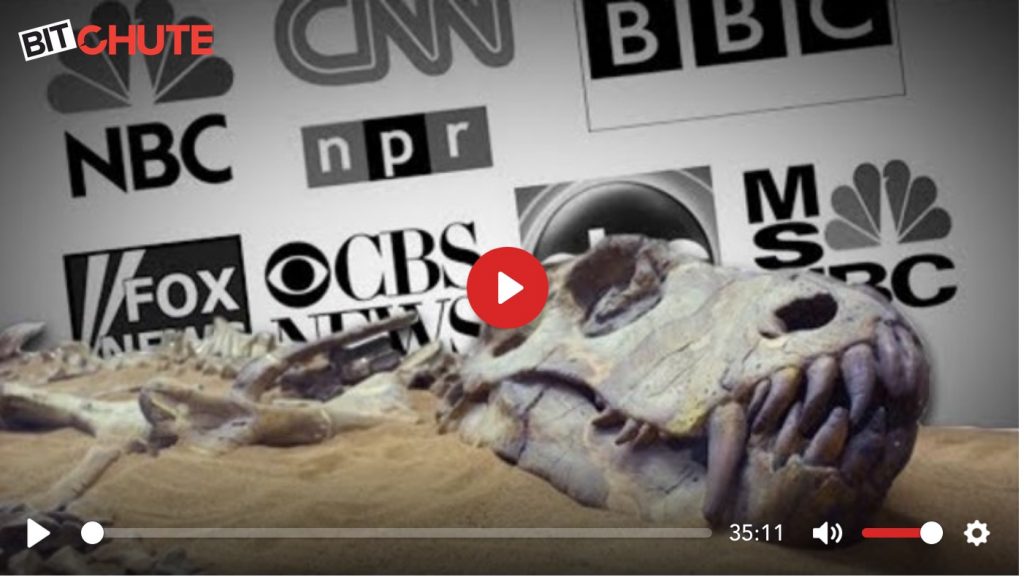 The fake establishment lapdog corporate crony mockingbird mouthpiece dinosaur media has finally learned that no one pays attention to the fake establishment lapdog corporate crony mockingbird mouthpiece dinosaur media anymore. This is humorous, but also worrying. James Corbett discusses what it feels like now that the Eye of Sauron is gazing directly at The Corbett Report in his latest instalment of Financial Survival with Melody Cedarstrom.
Norway NATO, Killer Robots, Free Libraries – New World Next Week
Corbett • 09/21/2018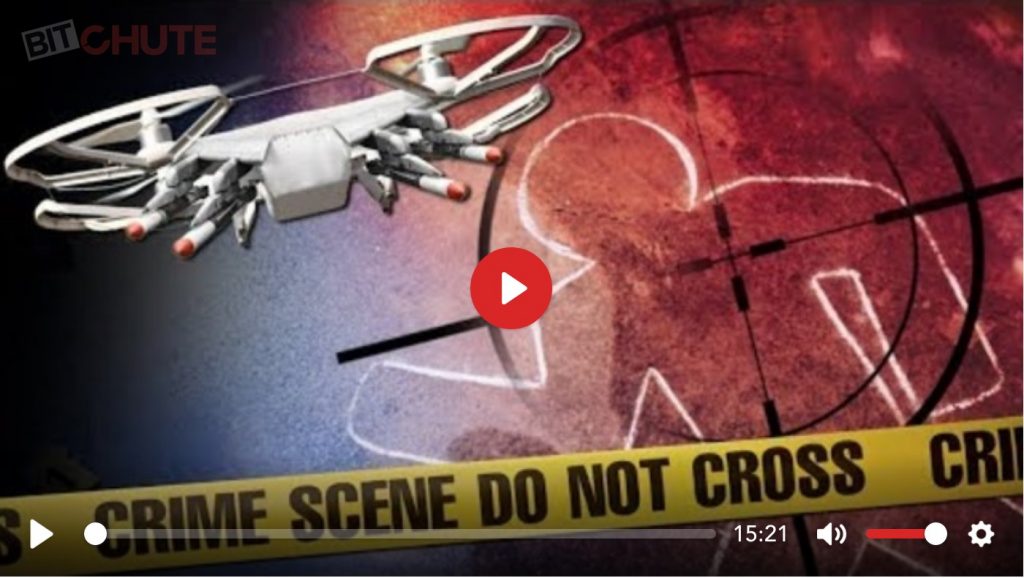 This week on the New World Next Week: Norway admits they made a terrible mistake in Libya; ready or not, killer robot black markets are on the way; and Little Free Libraries take the world by storm.
March on the Pentagon – Emma Fiala on The Corbett Report
Corbett • 09/20/2018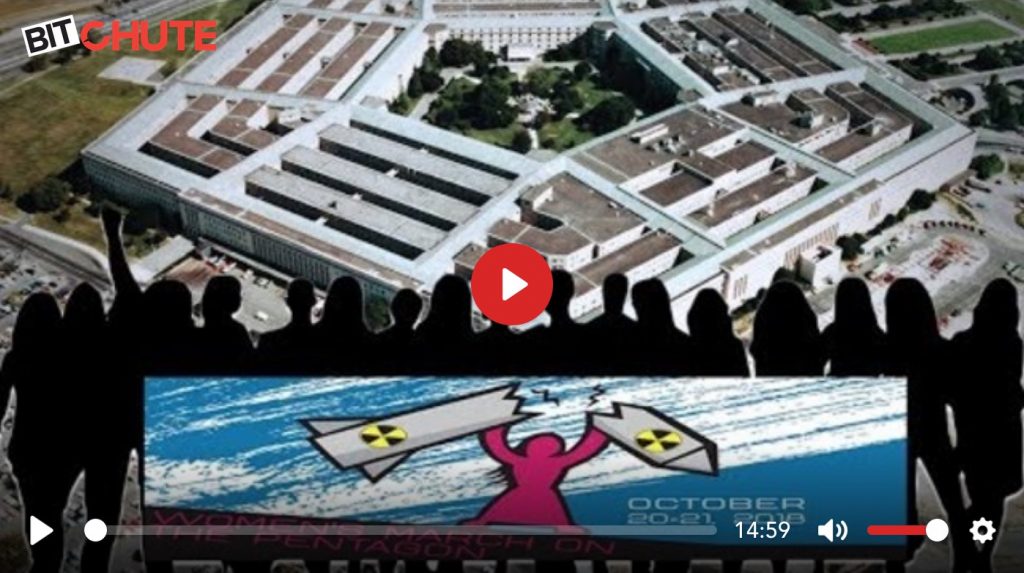 Emma Fiala of marchonpentagon.com joins us to talk about the Women's March on the Pentagon, the non-partisan march on the bipartisan war machine set to take place in Washington on October 20th and 21st. We discuss the march's genesis and goals, and how people can take this message to the streets wherever they happen to be.
Why Is Assad An Insane Suicidal Monster? – #PropagandaWatch
Corbett • 09/17/2018 • 24 Comments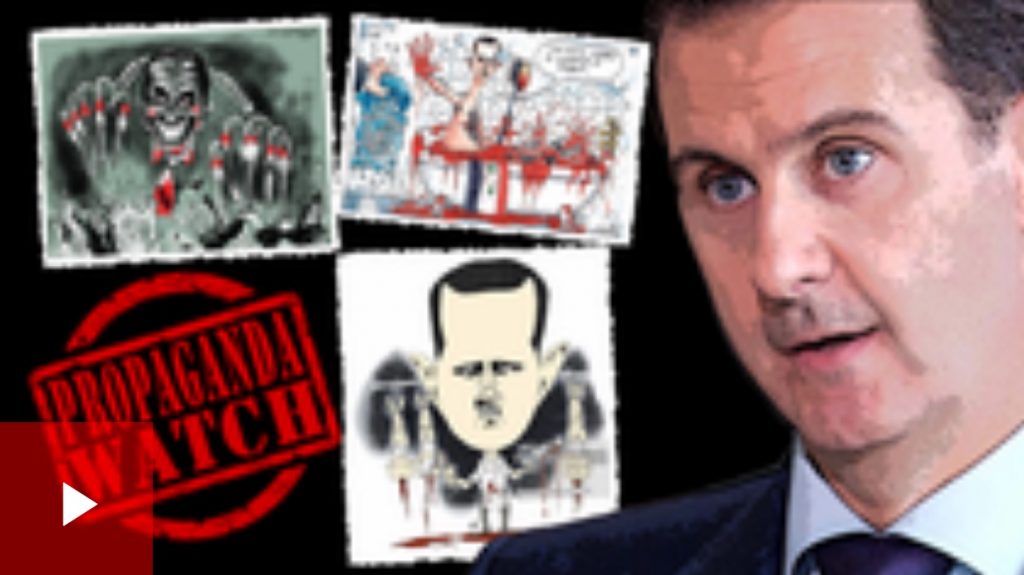 As we know from the political puppets and their mouthpieces in the controlled corporate media, Syrian President Basher al-Assad is a bloodthirsty monster responsible for the wanton slaughter of (fill in the number) of his own citizens, and he particularly enjoys dropping chemical weapons on women and children despite knowing that this is the one thing that will bring him universal condemnation and ensure a full-scale assault on his country. . . But why? Why is he such a monster? That is the question, and the New York Times offers its own helpful explainer with predictably comic results. Don't miss this edition of #PropagandaWatch from The Corbett Report.
The Truth About the China World Order
Corbett • 09/16/2018

In this video, Luke Rudkowski of WeAreChange gives you the latest breaking news on the China World Order and why it is here on purpose. We talk about the real news while exposing fake news media censorship on the topic of China with James Corbett of the Corbett report.
False Flag Idlib, Patent Nightmares, Cancer Call-out – #NewWorldNextWeek
Corbett • 09/14/2018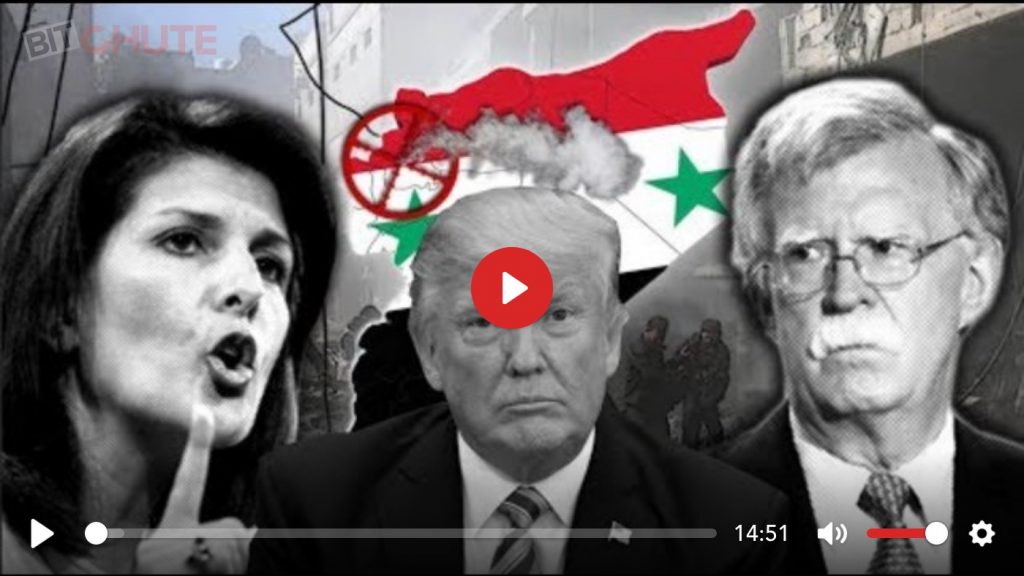 This week on the New World Next Week: false flags fly over Syria as the Trump neocons begin to circle Idlib; the technocrats patent our Orwellian nightmare future; and a cancer researcher is called out for undisclosed links to Big Pharma.
============================
JAMES CORBETT'S LATEST ARTICLES…
https://www.corbettreport.com/category/articles/
Uncle Sam Doesn't Want You Anymore
Corbett • 09/30/2018 • 62 Comments
OK, I've got some good news and some bad news. Which do you want first?
The good news? OK, no problem.
You know that old anti-war cliché about "Suppose They Gave A War And No One Came"? Well that slogan might be closer to becoming reality than you think.
Corbett • 09/23/2018 • 23 Comments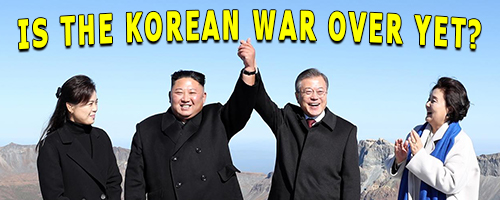 So the Korean War ended this week. Or so you would believe if you scanned the headlines of the British tabloids.
"North and South Korea have finally ended the Korean War after 65 years!" blares The Mirror.
And reading from the article:
North Korea's williingness to abolish its missile facilities and close its main nuclear complex has been hailed as the end of the Korean War.
Speaking at their summit talks in Pyongyang, South Korean President Moon Jae-in and North Korean leader Kim Jong Un said they agreed to turn the Korean peninsula into a "land of peace without nuclear weapons and nuclear threats."
[…]
A spokesperson said: "Leaders of the South and the North have in fact announced the end of the war on the Korean Peninsula by their agreements."
Well, will you look at that! Who woulda thunk it?
As everyone knows, the Korean War didn't really end in 1953. Instead, that's when the US (representing United Nations Command) co-signed an armistice with North Korea and China to bring about the formal ceasefire that has held ever since. So it's pretty amazing that the war officially ended this week, isn't it?
Well, it would be, if it were true. Which of course it isn't.
Corbett • 09/16/2018 • 18 Comments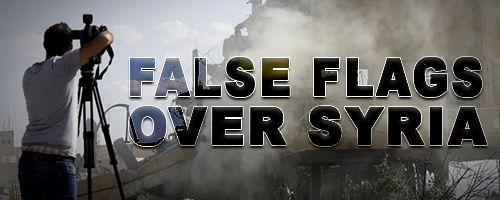 . . . As you can imagine, the gaggle of bloodthirsty neocons that infest Trump's war cabinet are unhappy about the prospect of their golden boys in Syria—those lovely child-beheading terrorists that they have been supporting for the last seven years—being vanquished entirely. After all, the Al CIA-duh terrorists are the "good guys" these days, don't you know. (Actually they were always the "good guys," but that's a conspiracy fact for another time.)
And so, like clockwork, we have the good lapdogs of the corporate press solemnly warning that there will be a chemical false flag attack in Idlib very soon to justify the next strike on Syria that we know Trump and his cronies are already planning. Of course, they don't call it a false flag attack, but we all know that's exactly what is on the drawing board. And, as James Evan Pilato and I report on the latest edition of New World Next Week (which, intriguingly, has been age-restricted on YouTube), the Russian military is now claiming that "several Middle East TV channels and a US news channel" are currently in Idlib "to produce the footage needed" to convince the world of the reality of this staged chemical weapons attack.
But we don't even have to take the Russian military's word for it. All we have to do is look at the history of the Syrian conflict to see that it is the "moderate rebels" who actually possess and have openly threatened to use chemical weapons, and who have been caught staging chemical weapons attacks to blame on the Syrian government. . . .
Never Forget: What the Deep State Wants You to Remember About 9/11
Corbett • 09/09/2018 • 123 Comments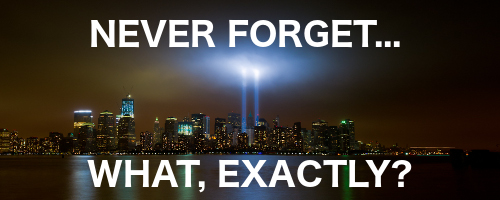 "Never forget."
This is the mantra. The mantra that is repeated in the wake of every major false flag, every psychologically traumatizing incident that the deep state wishes to become a rallying cry for their next agenda item.
And so it is completely unsurprising that this mantra has been invoked to remind the public of that foundational event of the age of terror, 9/11.
"Never forget," we are told by the mockingbirds of the establishment press every year come September. And when I say "every year" I mean every / single / year / without / fail. (Well, sometimes it's a fail, but you get what I mean).
But never forget what, exactly? That is the question.
---
Hour 2
Media Type: Audio • Time: 49 Minutes and 23 Secs
Hour 2 - Freedom's Phoenix Headline News
-30-
Letters of Marque Paperback
AVAILABLE ON AMAZON NOW BY CLICKING HERE!
Letters of Marque Paperback – September 25, 2018
by Marque dePlume (Author)
"The Crown calls it 'piracy' to explore frontiers beyond its grasp. So the time has come to define the conduct among pirates." Captain Marque
http://pirateswithoutborders.com/
Join us 'Above the Grid'
================================
Hour 2
Ernest Hancock
Freedom's Phoenix Headline News
===============================
Topics Discussed...
---
Hour 3
Media Type: Audio • Time: 87 Minutes and 00 Secs
Hour 3 - Dr Judy Mikovits (PhD Molecular Biology) on recent corruption surrounding vaccines; Truth and Transparency Protest and Conference; One Conversation Public Health and Immunity Conference
-30-
Letters of Marque Paperback
AVAILABLE ON AMAZON NOW BY CLICKING HERE!
Letters of Marque Paperback – September 25, 2018
by Marque dePlume (Author)
"The Crown calls it 'piracy' to explore frontiers beyond its grasp. So the time has come to define the conduct among pirates." Captain Marque
http://pirateswithoutborders.com/
Join us 'Above the Grid'
================================
Hour 3
Dr. Judy Mikovits, PhD
To contact Judy: marcinc0224@gmail.com
Webpage: http://www.marcinc.org/
Judy testified on a lawsuit for Racketeering and conspiracy against the CA legislators who passed the SB277 mandating toxins be inoculated in their children under the guise of vaccination and she will re-cap her testimony...
Lawsuit:
First-Amended-RICO-Complaint--img20160817_09071194.pdf
Other references and webpages:
Judy's previous interviews on the Declare Your Independence with Ernest Hancock Radio Show:
https://www.freedomsphoenix.com/Guest-Page.htm?No=01359
Judy A. Mikovits, PhD has spent her life training to be a research scientist to honor her grandfather who died of cancer when she was a teenager. Dr. Mikovits earned her BA from University of Virginia and PhD in Biochemistry and Molecular Biology from George Washington University. In her 35-year quest to understand and treat chronic diseases, she has studied immunology, natural products chemistry, epigenetics, virology and drug development. In just over twenty years she rose from an entry-level lab technician to become director of the lab of Antiviral Drug Mechanisms at the National Cancer Institute before leaving to direct the Cancer Biology program at EpiGenX Pharmaceuticals in Santa Barbara, California where she had met and married David Nolde in 2000. There in 2006, she became attracted to the plight of patients with Chronic Fatigue Syndrome and Autism. In only five years she developed the first neuroimmune institute from a concept to a reality and is primarily responsible for demonstrating the relationship between immune based inflammation and these diseases. She has published over 50 scientific papers.
Dr. Judy A. Mikovits recently founded MAR Consulting Inc. with her collaborator Dr. Frank Ruscetti.
She can be contacted at:
MAR Consulting Inc.
300 Carlsbad Village Drive
Suite 108A Box 132
Carlsbad, CA 92008or
MAR Consulting Inc. website:
Mission statement
MAR Consulting Inc., led by Drs. Frank Ruscetti and Judy A. Mikovits, seeks to understand complex and innovative biological issues to yield unbiased integrated, cutting-edge information for patients and physicians impacted by some of the most challenging chronic diseases. Utilizing their combined 75 years experience in tumor biology, immunobiology of retroviral-associated inflammatory diseases, cancer, stem cell biology, hematopoiesis, and drug development, MAR focuses on research projects, consulting (to patients doctors, academia, and industry) and lecturing without the restrictive authority of vested interest groups, following Thomas Jefferson's dictum: "Here we are not afraid to follow the truth wherever it may lead, nor to tolerate error so long as freedom is left free to combat it."
Webpage: http://www.plaguethebook.com/
On July 22, 2009, a special meeting was held with twenty-four leading scientists at the National Institutes of Health to discuss early findings that a newly discovered retrovirus was linked to chronic fatigue syndrome (CFS), prostate cancer, lymphoma, and eventually neurodevelopmental disorders in children.
When Dr. Judy Mikovits finished her presentation the room was silent for a moment, then one of the scientists said, "Oh my God!" The resulting investigation would be like no other in science.
For Dr. Mikovits, a twenty-year veteran of the National Cancer Institute, this was the midpoint of a five-year journey that would start with the founding of the Whittemore-Peterson Institute for Neuro-Immune Disease at the University of Nevada, Reno, and end with her as a witness for ?the federal government against her former employer, Harvey Whittemore, for Illegal campaign contributions to U. S. Senate Majority Leader, Harry Reid.
On this journey Dr. Mikovits would face the scientific prejudices against CFS, wander into the minefield that is autism, and through it all struggle to maintain her faith in God and the profession to which she had dedicated her life. This is a story for anybody interested in the peril and promise of science at the very highest levels in our country.
Plague The Book: Teaser Trailer:
To order your copy of Plague: One Scientist's intrepid Search For the Truth about Human Retroviruses and Chronic Fatigue Syndrome, Autism, and Other Diseases Click on any of the links - Amazon.com Barnes & Noble.com IndieBound
==============================
TOPICS DISCUSSED...
CDC gathering10/10/18 8am to 2pm to raise awareness about the #HHSsafetyFAIL lawsuit and to continue to protest mandatory vaccine laws
Location 1600 Clifton Road, Atlanta GA
2).
Dr. Judy will be speaking at One Conversation

Date and time:
Thu, October 11, 2018
4:00 PM – 8:30 PM EDT
Location

Woodruff Arts Center -- Hill Auditorium --
1280 Peachtree Street Northeast
Atlanta, GA 30309
https://www.eventbrite.com/e/one-conversation-tickets-49793429488
DATE AND TIME
THURSDAY, OCTOBER 11TH, 2018
3-3:45pm EST -- Happy Hour
4-8:15pm EST -- "One Conversation" Event
PLACE
WOODRUFF ARTS CENTER -- HILL AUDITORIUM
1280 Peachtree St NE
Atlanta, GA 30309
FOR MORE INFO, CLICK LINK: https://oneconversationatatime.com/
3).
Shocking Flaws in Gardasil Trial Design Prevents Safety Assessment
October 1, 2018
By Dr. Mercola
To say that the HPV vaccine is controversial would be a serious understatement. A number of experts have spoken out against the vaccine since its release, and studies have revealed serious problems. Children and teenagers have died or been permanently disabled following HPV vaccination, yet it remains on the market.
The featured 2017 trilogy, "Sacrificial Virgins," looks at the HPV vaccine from a variety of angles. Part 1,1 "Not for the Greater Good," questions the science behind the HPV vaccine and asks "Do we need it?"
Part 2,2 "Pain and Suffering," tells the story of two severely HPV-injured girls in the U.K., highlighting the possibility that the aluminum adjuvant added to Gardasil and Cervarix may be causing the devastating neurological damage seen in young girls and boys.
The third episode,3 "A Penny for Your Pain," looks at legal cases worldwide (in particular Japan, Spain and Colombia), in which victims are seeking compensation for their injuries.
?
Clinical Trial Participant Speaks Out Against Gardasil
In December 2017, Slate magazine published an article dishing out yet another inconvenient truth about this medically unnecessary vaccine, revealing trials "weren't designed to properly assess safety."4 Slate recounts the story of Kesia Lyng, a 30-year-old Danish woman who, at the age of 19, made the fateful decision to participate in a clinical trial for Merck's Gardasil vaccine.
Gardasil is supposed to prevent human papillomavirus (HPV) infection, which in rare cases may cause cervical cancer if left untreated. "Lyng's grandmother had died of cervical cancer the year before, so when a letter arrived offering her $500 to take part in a crucial international test of Gardasil, the decision was easy," investigative journalist Frederik Joelving wrote in Slate.
"She got her first shot of the vaccine at Hvidovre Hospital in Copenhagen on September 19, 2002. The symptoms snuck up [sic] on her shortly after her second shot on November 14. They never abated. It wasn't until 2016 that she received her diagnosis — chronic fatigue syndrome (CFS) …
In recent years, Lyng has become suspicious that there is a connection between her disease and her Gardasil immunization. Her ailments evoke descriptions found in hundreds of news stories from women who also received the vaccine, as well as several medical case reports from around the world."
Poor Safety Design Has Jeopardized Health of Tens of Millions of Girls
As of March 2016, nearly 90 million doses of HPV vaccines had been distributed among boys and girls in the U.S.,5 and many have paid an extraordinarily high price, coming down with nervous system disorders, CSF and autoimmune diseases. Long-term, the ramifications of this vaccination campaign may turn out to be even more widespread, as trial data from Merck shows that Gardasil vaccinations may actually increase your risk of cervical cancer.6
According to Merck's own research in one of its clinical trials, if you have been exposed to HPV strains 16 or 18 prior to vaccination, you may increase your risk of precancerous lesions caused by these two strains by 44.6 percent.
Reported side effects of Gardasil vaccination include immune-based inflammatory neurodegenerative disorders, suggesting something is causing the immune system to overreact in a detrimental way, sometimes fatally.7 Importantly, a 2012 systematic review8 of pre- and post-licensure trials of the HPV vaccine concluded that the vaccine's effectiveness is both overstated and unproven. According to the authors, the review revealed:
"… evidence of selective reporting of results from clinical trials (i.e., exclusion of vaccine efficacy figures related to study subgroups in which efficacy might be lower or even negative from peer-reviewed publications). Given this, the widespread optimism regarding HPV vaccines long-term benefits appears to rest on a number of unproven assumptions (or such which are at odd with factual evidence) and significant misinterpretation of available data.
For example, the claim that HPV vaccination will result in approximately 70 percent reduction of cervical cancers is made despite the fact that the clinical trials data have not demonstrated to date that the vaccines have actually prevented a single case of cervical cancer (let alone cervical cancer death), nor that the current overly optimistic surrogate marker-based extrapolations are justified.
Likewise, the notion that HPV vaccines have an impressive safety profile is only supported by highly flawed design of safety trials and is contrary to accumulating evidence from vaccine safety surveillance databases and case reports which continue to link HPV vaccination to serious adverse outcomes (including death and permanent disabilities)."
Trials Were Not Designed to Detect Safety Problems
It's precisely these kinds of design flaws that are highlighted in the December 17, 2017, Slate article.9Joelving reports that Merck has repeatedly "issued reassurances about the thorough randomized trials the vaccines were subjected to before approval." The public was told that the three HPV vaccines marketed in the U.S. were tested on tens of thousands of individuals around the world, without any compelling evidence of serious side effects having emerged.
While that reads well on paper, the shocking truth appears to be that these trials were never designed to detect and evaluate serious side effects in the first place.
"An eight-month investigation by Slate found the major Gardasil trials were flawed from the outset … and that regulators allowed unreliable methods to be used to test the vaccine's safety," Joelving writes. "Drug regulators tend to look much more seriously at potential side effects that surface during a pre-licensure study, which is what Lyng participated in, rather than after a product has already been found to be safe and been put on the market.
But regulators never learned of Lyng's plight. In fact, her repeated complaints of debilitating symptoms were not even registered in the study as potential side effects … Lyng's experience was not unique. Interviews with five study participants and more than 2,300 pages of documents obtained through freedom-of-information requests from hospitals and health authorities suggest inadequacies built into Merck's major clinical tests of Gardasil.
To track the safety of its product, the drugmaker used a convoluted method that made objective evaluation and reporting of potential side effects impossible during all but a few weeks of its yearslong trials. At all other times, individual trial investigators used their personal judgment to decide whether or not to report any medical problem as an adverse event …
Other health issues went on a worksheet for 'new medical history,' reserved for conditions that bore no relation to the vaccine. This study design put the cart before the horse, asking investigators to decide which symptoms might be side effects, rather than tracking everything in the same way."
The Safety Studies That Really Weren't
When adverse events following vaccination are marked down as "medical history" instead of being tagged and investigated as potential side effects, is it any wonder "no side effects have been found" in any of these trials!?
Actually, even that statement is a gross misstatement of facts, as at least one Gardasil trial of the new nine-valent vaccine reported nearly 10 percent of subjects who received the vaccine suffered "severe systemic adverse events" affecting multiple system organ classes, and over 3 percent reported "severe vaccine-related adverse events."10
Joelving also noted that while Merck claims "new medical history" notations are part of the safety metric, he questioned whether it could actually be used as such, since the work sheet doesn't record symptom severity, duration or outcome. "Even if the company then used the data in subsequent safety assessments, the lack of detail would have hampered meaningful analysis," he rightly states.
The 2012 systematic review11 of Gardasil pre- and post-licensure trials mentioned earlier isn't the only report out there that has offered up severe criticism of Merck's trial tactics. Joelving writes:
"In an internal 2014 EMA report12 about Gardasil 9 obtained through a freedom-of-information request, senior experts called the company's approach 'unconventional and suboptimal' and said it left some 'uncertainty' about the safety results.
EMA trial inspectors made similar observations in another report, noting that Merck's procedure was 'not an optimal method of collecting safety data, especially not systemic side effects that could appear long after the vaccinations were given.'
'If I were a research subject, I would feel betrayed,' Trudo Lemmens, a bioethicist and professor of health law and policy at the University of Toronto, told me. 'If the purpose of a clinical trial is to establish the safety and efficacy of a new product, whether it's a vaccine or something else, I would expect that they gathered all relevant data, including whether it had side effects or not.'"
Sadly, shoddy and incomplete documentation of adverse events, and follow-up periods that are too short to detect problems, can have tragic ramifications, and this is what appears to have happened with the release of Gardasil.
Joelving's investigation reveals at least five other Danish women went on to develop debilitating health problems during the Gardasil trial. One developed severe fatigue, "persistent flu-like symptoms," and had to be admitted to the hospital for a serious infection shortly after one of her vaccinations.
All of her symptoms were marked down as "medical history" and were not processed as adverse events. A year after her vaccination, she developed such debilitating pain she had to use a wheelchair.
To this day, she still sometimes has to use crutches, and has been given a tentative diagnosis of psoriatic arthritis. Another young woman also developed severe fatigue and headaches. She told Joelving she reported it to study personnel, yet there's no mention of these problems anywhere in her file.
Serious Design Flaws and Discrepancies Noted by Oncology Dietitian
This isn't the first time we've been warned about shoddy study designs in HPV trials. In 2013, an oncology dietician also pointed out significant discrepancies13 found in an HPV vaccine effectiveness study published in the Journal of Infectious Diseases,14 which evaluated data from the National Health and Nutrition Examination Surveys (NHANES) 2003-2006 and 2007-2010.
The study noted that while HPV vaccine uptake among young girls in the U.S. had been low, "the estimated vaccine effectiveness was high."
In her article,15 Sharlene Bidini, RD, CSO, points out that the study's conclusion was based on 740 girls, of which only 358 were sexually active, and of those, only 111 had received at least one dose of HPV vaccine. In other words, the vast majority of these girls were actually unvaccinated, and nearly half were not at risk of HPV in the first place since they weren't sexually active.
"If the study authors were trying to determine vaccine effectiveness, why did they include the girls who had not received a single HPV shot or did not report having sex?" she writes.
In the pre-vaccine era, an estimated 53 percent of sexually active girls between the ages of 14 and 19 had had HPV infections. Between 2007 and 2010, the overall prevalence of HPV in the same demographic declined to 43 percent. As noted by Bidini, this reduction in HPV prevalence simply cannot be attributed to the effectiveness of HPV vaccinations. On the contrary, the data clearly shows that it was the unvaccinated girls in this group that had the best outcomes.
"In 2007-2010, the overall prevalence of HPV was 50 percent in the vaccinated girls (14-19 years), but only 38.6 percent in the unvaccinated girls of the same age. Therefore, HPV prevalence dropped 27.3 percent in the unvaccinated girls, but only declined by 5.8 percent in the vaccinated group. In four out of five different measures, the unvaccinated girls had a lower incidence of HPV," she writes.
Another fact hidden in the reported data was that among the 740 girls included in the post-vaccine era (2007-2010), the prevalence of high-risk, nonvaccine types of HPV also significantly declined, from just under 21 percent to a little over 16 percent. So, across the board, HPV of all types, whether included in the vaccine or not, declined.
This points to a reduction in HPV prevalence that had absolutely nothing to do with vaccine coverage. One reason for this could be that, during the same period, reported sexual activity among young people declined, and their use of condoms increased — two very good reasons why HPV infections would also decline.16 Besides, vaccine uptake was very low to begin with.
Exaggerated Immune Response May Trigger Lifelong Health Problems or Death
In 2012, laboratory scientist Sin Hang Lee published a case report in the peer reviewed journal Advances in Bioscience and Biotechnology,17 discussing the presence of DNA fragments of the HPV virus in the blood and tissue of a healthy teenage girl who died in her sleep, six months after receiving her third and final dose of Gardasil. Lee confirmed the presence of HPV-16 L1 gene DNA in the girl's post-mortem blood and spleen tissue — the same DNA fragments found in the vaccine.
According to Lee, the fragments were protected from degradation by binding to the aluminum adjuvant used in the vaccine. He suggested their presence might offer a plausible explanation for the high immunogenicity of Gardasil, meaning that the vaccine tends to provoke an exaggerated immune response. He pointed out that the rate of anaphylaxis in girls receiving Gardasil is far higher than normal — reportedly five to 20 times higher than any other school-based vaccination program.
The dangers of high immunogenicity was also addressed in my 2015 interview with Lucija Tomljenovic, Ph.D., a research scientist at the University of British Columbia. In it, she explains that by triggering an exaggerated inflammatory immune response, vaccine adjuvants end up affecting brain function. Tomljenovic has also investigated the cross-reactivity between the antibodies raised against vaccine antigens. As it turns out, some of them cross-react with your own tissues.
Many viruses and bacteria share genetic similarities with human proteins. For example, there may be a peptide sequence in the wall of the virus that mimics the structure of a human protein. So, the antibody raised against the virus will then recognize the epitopes in your own tissues that mimic the virus. This has the potential to cause severe harm, and can significantly raise your risk of autoimmune disorders.
In collaboration with a team led by professor Yehuda Shoenfeld, a world expert in autoimmune diseases who heads the Zabludowicz Autoimmunity Research Centre at the Sheba Hospital in Israel, Tomljenovic has demonstrated how the HPV vaccine can cause brain autoimmune disorders. It was these findings that prompted the Japanese government to remove the HPV vaccine from its list of recommended vaccines.18
Gardasil and Chronic Fatigue Syndrome
As noted in the Slate article, exaggerated immune activation may also trigger chronic fatigue. Joelving writes:
"Imagining a link between HPV vaccination and CFS is not all that far-fetched, according to Dr. Jose Montoya, a professor of medicine at Stanford University and a CFS expert. The condition usually starts with an insult to the immune system — a severe infection, a car crash, a pregnancy. The first symptoms are flu-like, but months go by and the patient realizes she isn't getting better.
In a few genetically predisposed individuals, Montoya told me, it is 'biologically plausible' that the vaccine, which mimics a natural infection, could also trigger an immune response powerful enough to lead to CFS. To find out if that is the case, trial investigators would need to carefully track participants' symptoms 'for at least one year,' he said."
Gardasil Safety Follow-Up Was Just 14 Days Long
The Gardasil trial Lyng participated in neither tracked symptoms nor followed up on long-term health consequences. Joelving writes about her reaction when faced with the truth:
"As we looked through [her trial records] together … she grew visibly upset. 'What's the use of testing a vaccine if you don't register everything properly?' said Lyng … 'It had enormous consequences for my life' … In Lyng's records … there was no mention of fatigue, one of her most debilitating symptoms. Meanwhile, her family doctor began documenting the problem … nine days after she got her third and final shot of Gardasil."
Meanwhile, Lyng claims she discussed her symptoms with study personnel at each visit, but was met with dismissal. "This is not the kind of side effects we see with this vaccine," they would say — a rather remarkable statement, considering it was an experimental vaccine trial, the purpose of which is to tease out possible side effects.
None of her symptoms were recorded as adverse events. Headache, joint pain, gastroenteritis and influenza were all noted under "medical history." Fatigue was left out altogether.
Joelving also notes that the study protocol had a "clinical follow-up for safety" of just 14 days following each of the three injections. Any health problem, including serious adverse events, occurring after those two weeks were simply posted to the medical history.
"This design put individual investigators in charge of deciding, for most of the trial's duration, what would be assessed and reported as a potential side effect," Joelving writes, adding that "Experts I talked to were baffled by the way Merck handled safety data in its trials." One of the experts he talked to was a drug-safety adviser, who told him:
"'Everything from the first injection to the last plus a follow-up period is what we call treatment-emergent adverse events.' She puzzled over the brief, interrupted follow-up periods in the Gardasil trials, as well as Merck's choice not to report nonserious adverse events for all participants and its dismissal of many events as medical history.
'This is completely bonkers,' she said, requesting not to be named for fear of compromising her position in the industry. 'They've set up a protocol that seems very poorly thought through from a medical and safety perspective.'"
Warnings About Gardasil Clinical Trial Flaws in 2006
Shortly after Gardasil was licensed by the FDA in 2006, there were warnings that Merck's clinical trials, which the FDA used to fast track Gardasil to licensure, were methodologically flawed. In a June 27, 2006, press release issued by the nonprofit National Vaccine Information Center (NVIC) titled "Merck's Gardasil Vaccine Not Proven Safe for Little Girls,"19 the consumer advocacy organization pointed out that:
Merck used a bioactive aluminum-containing placebo, rather than a true placebo, in Gardasil clinical trials, even though the vaccine contained an aluminum adjuvant
Although Gardasil vaccine recommendations were targeting 12- to 13-year-old girls, Merck did not reveal how many girls under age 16 were in the prelicensure trials (eventually Merck admitted that number was only 1,200 girls, followed for less than two years)
Nearly 90 percent of Gardasil recipients and 85 percent of aluminum placebo recipients in the trials, who were followed up on, reported one or more adverse events within 15 days of vaccination
Gardasil recipients reported more serious adverse events
NVIC cofounder and president Barbara Loe Fisher said in 2006, "Nobody at Merck, the CDC or FDA know if the injection of Gardasil into all preteen girls — especially simultaneously with hepatitis B vaccine — will make some of them more likely to develop arthritis or other inflammatory autoimmune and brain disorders as teenagers and adults.
With cervical cancer causing about 1 percent of all cancer deaths in American women due to routine pap screening, it was inappropriate for the FDA to fast track Gardasil. It is way too early to direct all young girls to get three doses of a vaccine that has not been proven safe or effective in their age group."
Cruel Example of Why Health Authorities Cannot Be Trusted to Tell the Truth About Vaccine Hazards
September 20, 2018, an article20 in The BMJ highlighted the fact that while health authorities swore the pandemic H1N1 swine flu vaccine was safe and had undergone rigorous testing, internal documents unearthed during a lawsuit reveal there were in fact questions about the vaccine's safety, yet the public was simply never informed.
The vaccine in question was GlaxoSmithKline's Pandemrix vaccine, which was linked to a surprisingly high number of cases of narcolepsy across Europe. Associate editor of The BMJ, Peter Doshi, writes:
"In October 2009, the U.S. National Institutes of Health infectious diseases chief, Anthony Fauci, appeared on YouTube to reassure Americans about the safety of the 'swine flu' vaccine. 'The track record for serious adverse events is very good. It's very, very, very rare that you ever see anything that's associated with the vaccine that's a serious event,' he said …
A similar story was playing out in the U.K., with prominent organizations, including the Department of Health, British Medical Association, and Royal Colleges of General Practitioners, working hard to convince a reluctant NHS workforce to get vaccinated. 'We fully support the swine flu vaccination programme … The vaccine has been thoroughly tested,' they declared in a joint statement.
Except, it hadn't … [G]overnments around the world had made various logistical and legal arrangements to shorten the time between recognition of a pandemic virus and … administration of that vaccine in the population … A year later, signs of a problem with Pandemrix were emerging through postmarket reports of narcolepsy …
Now … new information is emerging from one of the lawsuits that, months before the narcolepsy cases were reported, the manufacturer and public health officials were aware of other serious adverse events logged in relation to Pandemrix …
For a range of concerning adverse events, reports were coming in for Pandemrix at a consistently higher rate than for the other two GSK pandemic vaccines — four times the rate of facial palsy, eight times the rate of serious adverse events, nine times the rate of convulsions. Overall, Pandemrix had, proportionally, five times more adverse events reported than Arepanrix and the unadjuvanted vaccine.
And the raw numbers of adverse events were not small … The last report seen by The BMJ, dated 31 March 2010, shows 5,069 serious adverse events for Pandemrix (72 per 1 million doses), seven times the rate for Arepanrix and the unadjuvanted vaccine combined … But neither GSK nor the health authorities seem to have made the information public — nor is it clear that the disparity was investigated …
[T]he events of 2009-10 raise fundamental questions about the transparency of information. When do public health officials have a duty to warn the public over possible harms of vaccines detected through pharmacovigilance? How much detail should the public be provided with, who should provide it and should the provision of such information be proactive or passive? If history were to repeat itself, does the public have a right to know?"
Talk to Your Kids about HPV and Gardasil
There are better ways to protect against chronic HPV infection and cervical cancer than getting an HPV vaccine. In more than 90 percent of cases, HPV infection is cleared within two years on its own, so keeping the immune system strong is far more important than getting vaccinated.
Additionally, HPV infection is spread through sexual contact and research21 has demonstrated that using condoms can reduce the risk of HPV infection by 70 percent, which is far more effective than the HPV vaccine. Other risk factors for chronic HPV infection including multiple sex partners, smoking, coinfection with herpes, chlamydia or HIV, and long-term oral contraceptive use.
Women chronically infected with HPV for many years, who don't get precancerous cervical lesions promptly identified and treated, can develop cervical cancer.
So, it is important to remember that, even if they get vaccinated, girls and women still need to get a Pap test every few years to check for cervical changes that may indicate precancerous lesions, as there is no evidence to suggest the HPV vaccine will actually prevent cervical cancer. Meanwhile, there's a large amount of evidence suggesting Merck cut corners during its vaccine trials and failed to properly assess the vaccine's safety.
4).
Robert F. Kennedy, Jr. Demands the Office of the Inspector General and Congress Investigate Department of Justice for Fraud and Obstruction of Justice
September 20, 2018 https://childrenshealthdefense.org/press-release/robert-f-kennedy-jr-demands-the-office-of-the-inspector-general-and-congress-investigate-department-of-justice-for-fraud-and-obstruction-of-justice/
WASHINGTON, D.C. Robert F. Kennedy Jr., Chairman of Children's Health Defense (CHD), and Rolf Hazlehurst, parent of a vaccine-injured child, petitioned the Department of Justice (DOJ) Office of Inspector General (OIG), and the Senate and House Judiciary Committees today to investigate actions taken by federal personnel during the "Vaccine Court" Omnibus Autism Proceedings (OAP).
Recently discovered evidence provided by Kennedy and Hazlehurst details obstruction of justice and appallingly consequential fraud by two DOJ lawyers who represented the Department of Health and Human Services (HHS) in 2007. These actions led to a denial of justice and compensation for over 5,000 families who filed claims of vaccine injury leading to autism in their children.
Vaccine manufacturers have enjoyed blanket liability immunity from vaccine injuries since Congress created the National Vaccine Injury Compensation Program (NVICP) as part of the National Childhood Vaccine Injury Act (NCVIA) of 1986. To expedite the more than 5,000 petitions filed in the program between 2001 and 2007, the "vaccine court" consolidated the petitions into the OAP. Rather than each petition being determined on its own merits, the court determined the outcomes for all 5,000 cases based on six representative test cases.
Kennedy and Hazlehurst provide newly discovered evidence that the leading HHS expert, whose written report was used to deny compensation to over 5,000 petitioners in the OAP, provided clarification to the DOJ lawyers that vaccines could, in fact, cause autism in children with underlying and otherwise benign mitochondrial disorders. The witness informed the DOJ attorneys that they were taking his entire written statement out of context and the statement should not be used as a blanket statement for all children in the OAP, which is exactly what they did. "The DOJ intentionally and fraudulently misrepresented its own expert's written opinion. In order to prevent the expert from revealing the truth to other petitioners or the special master these DOJ lawyers canceled the expert's oral testimony to keep him from stating his true opinion in public. In the process, the DOJ and HHS concealed critical material evidence of how vaccines can cause autism in some children" stated Hazlehurst, who obtained depositions and sworn affidavits documenting these facts.
"Congress created the National Vaccine Injury Compensation program to compensate the injured, not to create a federal program where dirty legal maneuvers are utilized to deny compensation. It is unethical for attorneys to consciously exclude evidence in any legal proceeding; it is grounds for disbarment and, potentially, criminal action," Mr. Kennedy said. "DOJ attorneys have committed fraud to deny Congress' promise to these families for rightful compensation and lifelong care for their injured children."
The fraud by the two DOJ attorneys directly influenced the 2011 Bruesewitz v. Wyeth Supreme Court decision which all but shut the door forever for families seeking redress for vaccine injury in the civil court system.
Since this miscarriage of justice, roughly one million children have been diagnosed with autism. An unknown percentage of these cases are the result of vaccine injury. As of 2015, the projected annual cost for autism was $268 billion and is expected to reach $1 trillion by 2025. These growing costs now fall on families and on taxpayers through the costs borne by local school districts, states and Medicaid.
Congress has a moral and legal duty to investigate these highly unethical actions of the Department of Justice in the Omnibus Autism Proceeding.
A crowdfunding campaign has been set up to help CHD pay for legal initiatives at igg.me/at/childrenshealth
5).
ICAN vs. HHS: Key Legal Win Recasts Vaccine Debate
https://www.prnewswire.com/news-releases/ican-vs-hhs-key-legal-win-recasts-vaccine-debate-300712629.html
Sep 14, 2018, 09:45 ET
LOS ANGELES, Sept. 14, 2018 /PRNewswire/ -- The U.S. Department of Health and Human Services (HHS) has admitted that, in direct violation of Federal law, it failed to provide a single vaccine safety report to Congress for thirty years, according to Informed Consent Action Network (ICAN).
Robert F. Kennedy, Jr. (left), represented ICAN and founder Del Bigtree in its successful lawsuit against HHS.
This acknowledgement comes after eight months of stonewalling from HHS following a Freedom of Information Act (FOIA) request from the nonprofit ICAN, and its founder Del Bigtree. ICAN sought copies of the reports HHS was required to submit to Congress every two years, starting in 1988, detailing improvements it made to vaccine safety. ICAN was represented by Robert F. Kennedy, Jr.
ICAN sued HHS in the U.S. District Court for the Southern District of New York, demanding that the reports be shared with the public. HHS eventually conceded that those reports do not exist and the Court entered an order confirming this concession.
"The 1986 National Childhood Vaccination Injury Act granted economic immunity to pharmaceutical companies for vaccine injuries and hence eviscerated their economic incentive for them to take responsibility for vaccine safety," says Bigtree. "Market forces driving vaccine safety were simply eliminated."
Congress therefore charged the Secretary of HHS with the explicit responsibility to assure vaccine safety. Biannual reports of HHS's progress in improving vaccine safety were to be submitted to Congress. Yet, as ICAN has now proven, these reports were never created.
"It is apparent that HHS doesn't have a clue as to the actual safety profile of the now 39 doses, and growing, of vaccines given by one year of age, including in utero," said Bigtree. "In 1986, a one-year old child received eleven doses.
"HHS spends billions annually promoting vaccines and generates a steady stream of reports promoting vaccines," Bigtree says. "Yet, when, despite Federal law, HHS cannot bother to complete the simple task of preparing a biennial report on vaccine safety, there is little hope HHS is tackling the much harder job of improving vaccine safety."
The 1986 Act shifted financial liability for vaccine injuries to the U.S. Government which has since 1986 paid over $3.9 billion for serious vaccine injuries.
Bigtree hosts the weekly live online news program "The HighWire," and is an Emmy-award winning producer of the CBS medical talk show "The Doctors." He is producer of the groundbreaking documentary "Vaxxed: From Coverup to Catastrophe."