Michael Gibbs (political activist in AZ) the bad bills at the AZ Legislature this year - Scott Horton (Scott Horton Radio) on various foreign policy/civil liberty issues - Blake Anderson and Joby Weeks = Be a Bitcoin Miner w BitClub
Media Type: Audio • Time: 241 Minutes and 0 Secs
Media Type: Audio • Time: 52 Minutes and 27 Secs
Media Type: Audio • Time: 130 Minutes and 0 Secs
---
Hour 1 - 3
Media Type: Audio • Time: 241 Minutes and 0 Secs
Hour 1 -- Michael Gibbs (local political activist in AZ) on the bad bills at the AZ Legislature this year
Hour 2 -- Scott Horton (Scott Horton Radio) on various foreign policy/civil liberty issues
Hour 3+BONUS -- Blake Anderson and Joby Weeks come on the show together to talk about what they have been working on (BitClub bitcoin mining)
CALL IN TO SHOW: 602-264-2800
-30-
January 29th, 2016
Declare Your Independence with Ernest Hancock
on LRN.FM / Monday - Friday
9 a.m. - Noon (EST)
Studio Line: 602-264-2800
Hour 1
2016-01-29 Hour 1 Michael Gibbs from Ernest Hancock on Vimeo.
Michael Gibbs
Michael BIO: Michael Gibbs is a physicist and computer scientist by education, an engineer by profession, and a pilot, inventor, and author by avocation. He has spent over 30 years in the aerospace industry developing flight deck systems for commercial airliners and business jets, originally in the field of software engineering and ultimately in systems engineering and human factors. He holds 6 patents as a result of his work in human factors research.
As a political activist, Mr. Gibbs works with the Campaign for Liberty, Arizona Citizens Defense League, and the Tenth Amendment Center. He is also training to become an instructor for the Center for Self-Governance.
Michael comes on the show to talk about some of the bad bills being kicked around at the Arizona Legislature this year. Here is one example:
Redflex and American Traffic Solutions find eleven Arizona state lawmakers to back bill enacting photo ticketing industry wish list.

http://www.thenewspaper.com/news/48/4877.asp
Photo Enforcement Industry Dream Bill Introduced In Arizona
Redflex and American Traffic Solutions find eleven Arizona state lawmakers to back bill enacting photo ticketing industry wish list.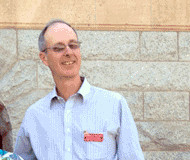 A group of eleven Arizona state lawmakers wants to see a dramatic expansion in the use of photo radar, school bus cameras and red light cameras. The mostly Republican representatives introduced a measure that checks off just about every policy initiative on the photo enforcement industry wish list. It begins by renaming photo enforcement systems as "automated traffic safety devices" within the state code. It then deletes the legal provision the photo ticketing industry hates more than any other -- the personal service requirement.

Current law explicitly states that no individual who receives a ticket in the mail has a duty to respond. A jurisdiction that wants to enforce a photo radar ticket must serve notice in accordance with court procedures. As a result, many residents have taken to dodging process servers to avoid paying citations. Even executives from the photo enforcement industry have been caught exercising this legal provision.

If the Group of Eleven bill becomes law, citations could be sent by ordinary first class mail to vehicle owners, who would be held liable even if they never receive the citation or if they were not driving. Existing law requires the private companies that operate the automated ticketing machines make a positive identification of the driver. This results in thousands of tickets being thrown out when the driver is not visible in the violation photograph.

Photo fines under the new bill range from $150 to $750 each, with amounts increasing each year with the inflation rate. The bill splits the net profit evenly, with half going to the state and half going to the city or county where the camera is installed.

The bill states that ticket recipients are "presumed to have committed a violation" because they own a vehicle that was photographed. The only permissible defense is that a traffic signal malfunctioned and that malfunction happened to be visible in the photograph. Tickets could also be dismissed for motorists who were yielding to an ambulance or following the order of a police officer directing traffic -- but only if "the order or direction is observable on the recorded image." All photographs must be destroyed within ninety days of a case being closed to prevent audits such as the one in Baltimore, Maryland where image analysis confirmed that thousands of photo radar citations were issued to vehicles that were not speeding. Finally, the measure authorizes the creation of school bus cameras.

The bill is sponsored by Bob Thorpe (R-Flagstaff), Mark A. Cardenas (D-Phoenix) and Regina Cobb (R-Kingman) along with cosponsors Brenda Barton (R-Payson), Paul Boyer (R-Phoenix), Heather Carter (R-Cave Creek), Mark Finchem (R-Tucson), Vince Leach (R-Saddlebrooke), Javan D. Mesnard (R-Chandler), Lisa A. Otondo (D-Yuma) and Kelly Townsend (R-Mesa). A copy of the bill is available in a PDF file at the source link below.

Source:

House Bill 2366 (Arizona Legislature, 1/19/2016)
=========================
---
Hour 2
Media Type: Audio • Time: 52 Minutes and 27 Secs
Hour 2 -- Scott Horton (Scott Horton Radio) on various foreign policy/civil liberty issues
-30-
Hour 2
2016-01-29 Hour 2 Scott Horton from Ernest Hancock on Vimeo.
Scott Horton (ScottHorton.Org)
Scott Horton (Scott Horton Radio) on the stupidity and wastefulness of our foreign policy; The march to war with just about everyone; Economic issues
==========================
Scott's previous interviews on the Declare Your Independence with Ernest Hancock Radio Show:
https://www.freedomsphoenix.com/Guest-Page.htm?No=00040
==========================
TOPICS AND REFERENCES...
---
Hour 3
Media Type: Audio • Time: 130 Minutes and 0 Secs
Hour 3+BONUS -- Blake Anderson and Joby Weeks come on the show together to talk about what they have been working on (BitClub bitcoin mining)
-30-
Hour 3
2016-01-29 Hour 3 Blake Anderson,Joby Weeks from Ernest Hancock on Vimeo.
BONUS:
2016-01-29 Hour 4 Blake Anderson,Joby Weeks from Ernest Hancock on Vimeo.
Blake Anderson (cryptographic economist and computer scientist) and Joby Weeks (multi level marketer extraordinaire) come on the show to talk about BitClub Network Mining Pool...
Webpage: https://bitclubnetwork.com/
BITCLUB NETWORK MINING POOL
We are attempting to build one of the largest Bitcoin mining pools in the world!

Our Public Mining Pool - www.BitClubPool.com

Bitcoin and other digital currencies operate as peer-to-peer networks, which means everyone who uses the currency is actually a piece of the system. Mining is simply the term used for maintaining the block chain and verifying each transaction.

Miners use special hardware to solve complex math problems and are issued a certain number of new Bitcoins in exchange. This provides a unique way to issue the currency and also creates an incentive for more miners to participate.

As the popularity of Bitcoin increases more miners join the network, which makes it harder to solve these math problems. For this reason Mining is no longer feasible for an individual and it will continue to get even harder. This has led to the creation of Mining Pools, where many people combine their computing power and increase their odds to mine for Bitcoin.
RESPONSIBLE MINING IN ICELAND
Mining Facility #2
BitClub Network new mining operation in Reykjavik Iceland.

Iceland provides the perfect environment for large scale mining because not only is the temperature cool all year round, but the island provides 100% clean and renewable energy by utilizing natural Hydroelectric and Geothermal technology.

This means we are not polluting the air and providing a very responsible and green way to mine for Bitcoin. We believe this will soon become a big issue in the world as the combined network power of Bitcoin continues to grow and the amount of electricity being used is outrageous. So we are taking a proactive step to be green! Oh, and it also helps this power is cheaper than anywhere in the world so it's a big Win-Win for our members to be green.

About 70% of our future expansion will be in this new facility. We continue to mine all over the world looking for the best scenarios and solutions for our members. We will never put all of our eggs in one basket but we plan to make this our biggest basket over the next few years.

If you would like to see this facility please contact us, we are allowing certain members exclusive access to tour this facility. You must be a Pro Builder or higher to be considered and in the near future we will even have special offers for Master Builders to get an all expense paid trip (details inside Member's Area).
Video of Mining Facility #1:
Video of Mining Facility #2:
Iceland Promo Video:
REAL MINING SOLUTIONS
BitClub Network is just like many other mining pools except we offer a unique opportunity for members to purchase shares in the hardware and get paid to share it. For doing this you will earn a daily share of all Bitcoin being mined by the pool.

Our pool is set up for miners to plug in and earn a share of all Bitcoin by pointing their existing mining equipment to our pool. We offer nice incentives for miners who join our pool (visit our pool site for details - www.BitClubPool.com ).

We also offer a referral based system that allows anyone to purchase shares of mining hardware and get paid a commission. With our unique affiliate model and daily Bitcoin payouts we can outpace just about any other mining operation in existence.

As a member of BitClub you actually own a piece of the mining hardware being purchased and depending on the amount of shares you own and the country you live-in, you can actually request to take possession of your equipment. You can request this at any time before your shares expire.

For more details on requesting hardware click here or go to the bottom of this page.
3RD PARTY VALIDATION
BlockChain Chart
BlockChain Pool Ranks
BlockChain Front Page
You can track our mining pool on BlockChain and other Mining Pool Databases like BlockTrail
REQUEST MINING HARDWARE:
When you purchase a share of a mining pool your Bitcoin is being used to purchase actual mining hardware for the pool. We use our purchasing power to get better deals and avoid paying retail. With the volatility of Bitcoin this is very important because the value can fluctuate by +-10% within the same 24 hour period. This makes an individual share a little hard to value because depending on when you purchased it could be 1 machine, 2 or even more.

For this reason you must contact us by opening a support ticket and requesting a quote on how much hashing power your shares are currently worth. This number depends on the age of your account and the total accumulated shares (including partial shares). Whatever the total is we make you a "buy-out" offer and provide a shipping quote to your location. This could end up being 1 miner, 5 miners, or even 20 depending on the models and your shares so each quote will be personalized to your account and current market conditions.

You are responsible for all shipping and transport fees and you cannot combine accounts to add up to a full share, each account will receive it's own custom quote. If you would like to take possession of your mining equipment we can even help you set them up and start mining to our pool directly, or any other pool of your choice. Once your buy-out has been accepted we will unplug your machine(s) and start the shipping process. You will not be compensated during this time frame, once you agree to the buyout and the machine is unplugged you will no longer own your mining shares.

IMPORTANT: We don't recommend you do this unless you have some experience running these machines or you plan to re-sell them quickly. Mining on your own is difficult and if you are not a technical person it can very hard to make any profits, or even keep the machines hashing. Not all of the mining equipment will come in original boxes and they will be subject only to the original manufacturers warranty (if it still exists). You are fully responsible after taking possession of your equipment and must contact original manufacturer for any issues.

Taking possession of your miners will cancel your shares and you will forfeit all future mining share earnings in the pools you cash in. Your membership will remain active and you may still be eligible to earn other commissions or purchase additional shares in the future. Contact us for more details.
==========================
Blake's previous interviews on the Declare Your Independence with Ernest Hancock Radio Show:
https://www.freedomsphoenix.com/Guest-Page.htm?No=01121
Joby's previous interviews on the Declare Your Independence with Ernest Hancock Radio Show:
https://www.freedomsphoenix.com/Guest-Page.htm?No=00935
==========================
TOPICS AND REFERENCES...