The ECB was clear - hiking 50bps and FTW! - but what will The Fed do?
he market has dovishly adjusted to the banking crisis overhang... (pricing in a peak in rate in May with just one 25bps hike and then cuts for the rest of the year)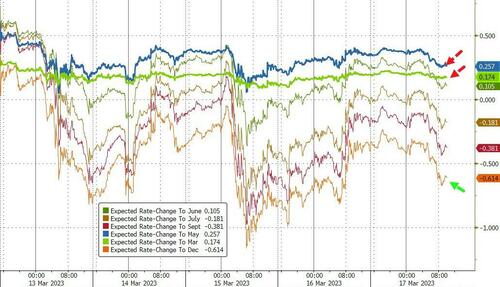 ...and the new 'bond king' suggests that Powell hikes continue to keep up its inflation-fighting efforts, due to credibility concerns.
"This is really throwing a wrench in [Fed Chair] Jay Powell's game plan," Gundlach said.
"I wouldn't do it myself. But what do you do in the context of all this messaging that has happened over the past six months, and then something happens that you think you've solved."
Ironically adding that, The Fed is doing this with one hand at the same time as enabling inflationary policy with the BTFP on the other:
"I think that the inflationary policy is back in play with the Federal Reserve … putting money into the system through this lending program." Gundlach said.