The number of container ships waiting for berths at the ports of Los Angeles and Long Beach fell to 78 on Tuesday, the lowest tally in three months. That's down down 23% from 101 ships on Feb. 1 (the average for the month of January was also 101) and down 28% from the all-time high of 109 ships on Jan. 9, albeit still up 160% year on year.
n its latest Supply-Chain Congestion Tracker, Goldman makes a similar observation, noting that its weekly congestion index declined by 5.1% in Week 13...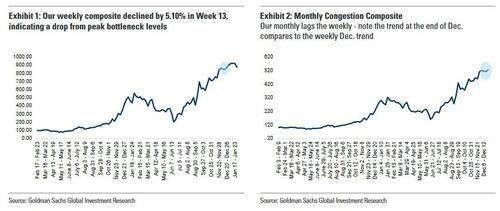 ... the largest week-over-week improvement the index has seen going back to September, a time when the backup of 73 ships at the West Coast ports dropped to 62 (that week showed about 12% w/w improvement) – in a similar fashion, last week's backup of 106 ships fell to 100 ships in this report.