UPDATE------------------------------------------------------------------------------------------------------------
1:19 PM PT -- TMZ has learned ... Tiger was staying at a hotel where a major network television show was being shot. Production sources tell TMZ, when the director arrived just before 7 AM, Tiger was driving his SUV very fast as he was leaving the property and almost hit the director's car. The director was shaken enough to tell production staff about it after he parked. A crew member who saw Tiger as he got in his SUV at the hotel tells TMZ, once Tiger got in his vehicle, there was a delay in driving off and he appeared "agitated and impatient." The crew member says once the delay was over, Tiger "took off fast."
1:00 PM PT -- Law enforcement sources tell TMZ Woods was alert enough at the scene of the accident to ask first responders to have his manager pick up his stuff. We're told cops have not found anything illicit inside the vehicle.
A photo from the crash scene appears to show blood on the driver's side airbag.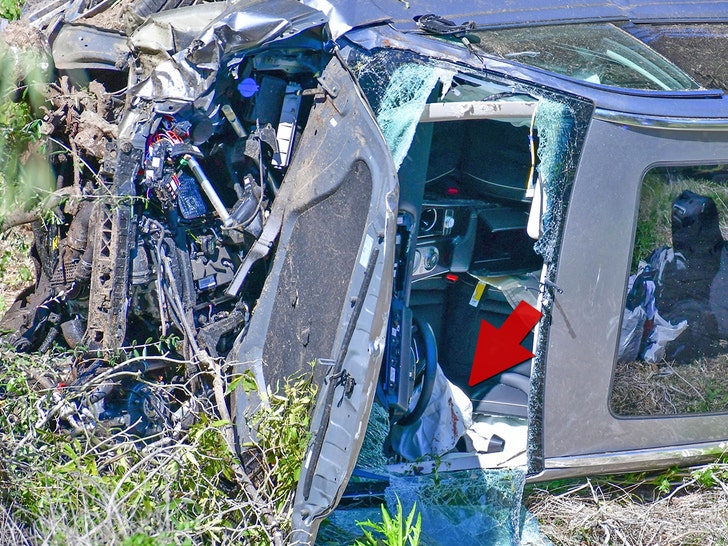 12:43 PM PT -- Tiger's good friend, Donald Trump, has issued a statement about the crash ... saying, "Get well soon, Tiger. You are a true champion!"
Tiger and Trump go back years ... with Trump famously awarding Tiger the Presidential Medal of Freedom in 2019 to honor Tiger for winning the Masters.
12:18 PM PT -- TMZ has obtained the dispatch audio for Tiger's crash, and it sounds like they realized in real time that Tiger was trapped inside ... and were going to need backup STAT.