Following November's better than expected jump in both Starts and Permits, analysts expected a more mixed picture in December as Homebuilder Sentiment rolled over and affordability collapsed. However, both Starts and Permits exploded higher to start the year (up 5.8% MoM and 4.5% MoM respectively).
Starts have now risen for 4 straight months and Permits for 2 straight months...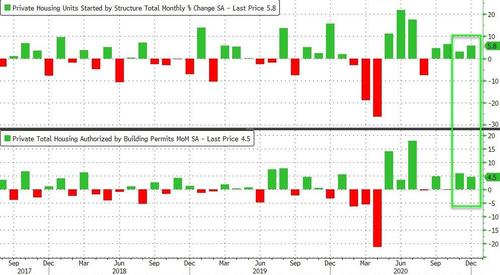 Source: Bloomberg
The surges in starts and permits were driven by single-family units.
Single-family Starts spiked 12% MoM from 1.195mm to 1.338mm to the highest level since Dec 2006 (as multi-family starts tumbled 15.2% MoM amid the rental exodus apparent across the nation)