Love her or hate her, Cathie Wood's ARK Invest is moving markets. The firm's ARKK Innovation ETF has been the topic of numerous reports here on Zero Hedge, where we have laid out the firm's quick rise to fame - mostly as a result of Softbank gaming the NASDAQ with options and whatever the hell has been going on with Tesla stock over the last 18 months or so.
Now, Cathie Wood's next target appears to be outer space - and the market is taking notice.
On Wednesday, the firm filed to launch a space exploration ETF, immediately sparking a rally in space-themed names in Wednesday's after market session and Thursday's pre-market and morning session.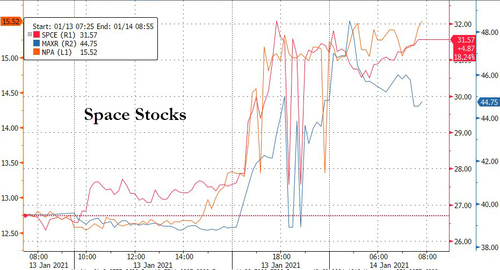 The ETF "will primarily track U.S. and global companies engaged in space exploration and innovation," according to the filing. 
Space related names rose on the news in early pre-market trading on Thursday, with stocks like Maxar and Virgin Galactic catching a bid in hopes of frontrunning the eventual bid that will come from the ETF.  The rally continued during the morning session, with names like Gogo and Viasat also catching bids.