Just three days after plunging to around $30,000, Bitcoin has rebounded aggressively and retaken the Maginot Line of $40,000 this morning, just hours ahead of President-Elect Biden's announcement of his multi-trillion-dollar economic stimulus plan...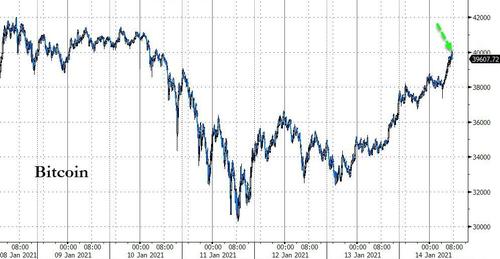 Source: Bloomberg
Ethereum is also on the rise, back above $1200...
As CoinTelegraph reports, Tyler Winklevoss, co-founder of Gemini exchange, referenced various press reports of a "crash" in Bitcoin as it slid to $30,250 earlier in the week. He told Twitter followers:
"They said #Bitcoin died on Monday, but now it's above 37k. Don't listen to the noise, stay focused."
"Did nocoiners really think #Bitcoin wouldn't bounce back? This is the year of the Metal Bull. $100k is inevitable," Blockstream CSO Samson Mow added.