Just over a week ago, when we reported on the ongoing feud between Goldman and JPM to come up with the most terrifying GDP forecast for the US, and when we asked if a Second Great Depression has begun after Goldman's chief economist Jan Hatzius slashed his Q2 GDP forecast from -5% to -24%, we said "we expect Goldman to take the machete to this analysis as well in the coming days, because if the US economy is indeed paralyzed for at least one quarter, then all of GDP could be lost."
We were right, because early on Monday morning Goldman's Haztius did just that, and in a report titled "The Sudden Stop: A Deeper Trough, A Bigger Rebound", he writes that he is "making further significant adjustments to our GDP and employment estimates. We now forecast real GDP growth of -9% in Q1 and -34% in Q2 in qoq annualized terms (vs. -6% and -24% previously) and see the unemployment rate rising to 15% by midyear (vs. 9% previously)."
Yes, the Q1 GDP drop is stunning...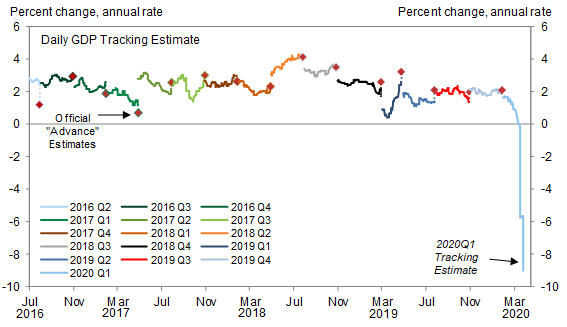 Economist Slok Says GDP May Fall 20%-30%, Sees Unemployment Jumping in 2Q
... but it is the Q2 collapse which wipes out more than a third of the US economy that is truly jawdropping because as Hatzius admits, "it would represent a decline that is more than three times larger than the previous low in the history of the modern US GDP statistics."
Detailing the assumptions behind his latest revision, Hatzius explains that he has increased his estimates of the peak hit to services consumption, manufacturing activity, and construction, "in light of new evidence on the severity of the hit across the different sectors" and now expects the level of GDP in April to be 13% below the January/February trend, as shown in Exhibit 1. "We assume that this drag then fades gradually by 10% each month in the services industry and by 12.5% in the manufacturing and construction industries."