You know it's coming:
"Stocks surge on optimism China epidemic is contained"

— zerohedge (@zerohedge) January 21, 2020
And sure enough, less than 24 hours later, in an attempt to explain the return of overnight market euphoria Reuters writes that "world stock markets looked to be getting back to full strength on Wednesday, as updates from China about the spread of a new flu-like coronavirus raised hopes the outbreak would be contained" and Bloomberg doubled-down that "U.S. equity-index futures gained on Wednesday as China took steps to contain the spread of a deadly virus", which is ironic since just moments ago China's CCTV reported that there are now 473 confirmed Coronavirus cases in China, with many cases now observed internationally, and most recently, a Coronavirus case were confirmed in Hong Kong as the epidemic spreads. And yet, after dropping by 9 points yesterday, S&P futures have more than made up those losses and are up 14 points as of Wednesday morning.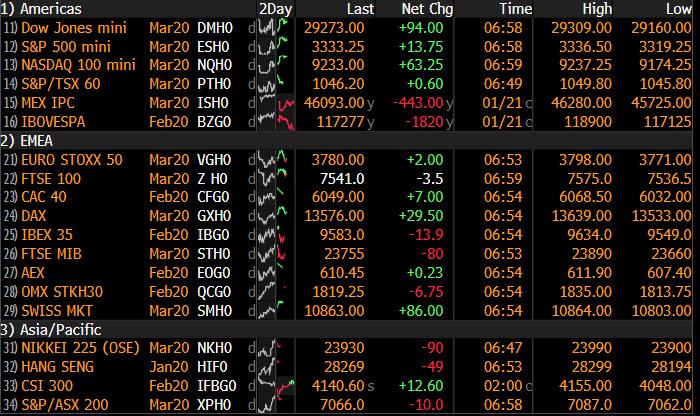 China's National Health Commission said on Wednesday there were 440 cases of the new virus, with nine deaths so far, and added that measures are now in place to minimize public gatherings in the most-affected regions. How one can prevent people from gathering in China, the world's most congested nation, remains unclear. Meanwhile, the outbreak has spread from its origin in Wuhan, China, to the United States, Thailand, South Korea, Japan and Taiwan. The World Health Organization meets later on Wednesday to consider whether the outbreak is an international emergency.
In other words, despite what a handful of algos would like to telegraph, the Coronavirus is anything but contained, with the outbreak reviving memories of the SARS epidemic in 2002-03, a coronavirus outbreak that killed nearly 800 people. And the punchline: according to Reuters, "this time China's response and candour — in contrast to the SARS epidemic — have helped reassure investors concerned about the possible global fallout." Actually, the "response and candour" confirm, if anything, that China is panicking, but as usual the market is never wrong, until it is.
"The call here is not that the virus is done or nipped in the bud by any means," said Kay Van-Petersen, global macro strategist at Saxo Capital Markets. "But there have been no big further reported outbreaks, and the response from the Chinese authorities has been very, very positive".
"I would expect a lot of people - candidly, like we are - that are looking for opportunities to buy rather than sell" amid the dip in stocks caused by virus-contagion worries, Lamar Ville re, partner and portfolio manager at Villere & Co., said on Bloomberg TV. "I don't think this is going to be the beginning of the end."
Because one obviously "buys rather then sells" when stocks are trading at never before seen highs.
In any case, optimism that "Corona is Contained" helped European stocks in London, Frankfurt and Paris score early gains of 0.1% to 0.2%. European equities first erased initial gains to mirror whiplash price action for stocks in Asia, where early losses reversed after Beijing outlined measures to contain the outbreak of the Wuhan coronavirus, however it has since rebounded again.