Detective Rustin Cohle would have had a field day with the trade negotiations. Like Cohle's catchphrase from Season One of "True Detective" goes: "Time is a flat circle - everything we have done or will do we will do over and over and over again, forever."
First, there were anxieties about the fate of the "Phase 1" trade deal, followed by rumors that the two sides might be able to work something out, followed by false reports that a multi-phase deal had been struck, and now...the White House is pouring cold water on these rumors, insisting that the two sides are nowhere near a deal to remove all US trade war tariffs.
If we had to represent this visually, the chart would look like this: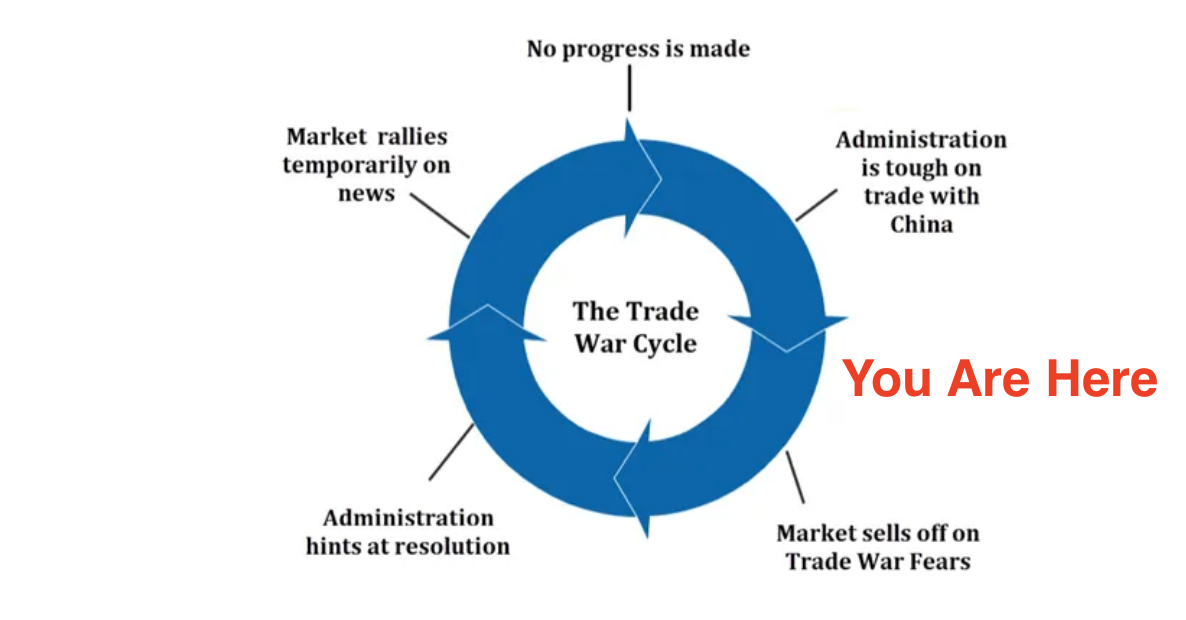 After denying reports about a deal between Washington and Beijing that would involve the rollback of tariffs, White House Advisor Peter Navarro appeared on Morning Edition Friday to talk down the odds of lifting the tariffs, arguing that they are a critical point of leverage, and that removing them would take the pressure off Beijing to hold up its end of the deal. During the NPR interview, he reportedly echoed comments from an interview with Fox Business's Lou Dobbs Thursday night.
"There's tariffs coming in December - December 15. We would be willing, I think, again it's up to the president, to postpone the tariffs...Yeah the December 15 ones but not roll back any existing tariffs. That's the fine distinction here. Look the tariffs are really a necessary defense against China's economic aggression against the United States. They are also the only insurance policy we have that China will comes to the negotiating table," Navarro said.
This comes on the back of his comments overnight: "There is no agreement at this time to remove any of the existing tariffs as a condition of the phase one deal, and the only person who can make that decision is President Donald J. Trump and it's as simple as that…I heard someone joke today that negotiations with the Chinese don't really begin until you have a handshake deal, and I think that's maybe what's going on here. The spectacle of the Chinese propaganda press putting out information like that - they're just negotiating in public trying to push us in a direction. The president makes these decisions."
As one Twitter user noted, Navarro - the director of the White House's National Trade Council - appears to be pushing back on the deal while the rest of the administration sounds more positive, or has at least stayed quiet.