IPFS News Link • Japan • https://www.theguardian.com
Japan's defence ministry is to call on US forces based in the country to ensure the safety of their aircraft after pilots from a marine corps unit involved in a deadly crash last year were shown taking selfies and reading books while flying.
A US military report on the investigation into the December 2018 crash revealed widespread misconduct among the unit's pilots, including some who had posted selfies from their cockpits on social media.
One was shown combing his moustache mid-flight and another reading The Great Santini, a 1976 novel about a marine corps fighter pilot, with his hands off the controls.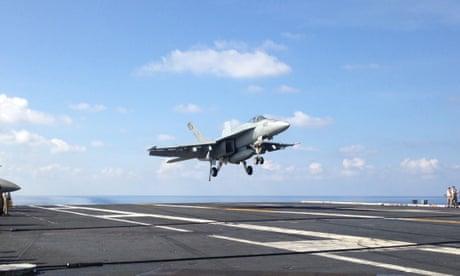 Five missing after two US military aircraft crash off Japan coast
Read more
"Examples of such unprofessionalism included prescription and over-the-counter drug abuse, excessive alcohol consumption, adultery, orders violations, and failures in following fundamental principles of professional aviation training and operations," the report said.
Four officers were dismissed following the selfie revelations, Kyodo news agency said. They included the commanding officer, who had posted a photo on his WhatsApp profile showing him without his oxygen mask and with his visor up.
Tsugumasa Muraoka, the governor of Yamaguchi prefecture, where the unit's Iwakuni base is located, described the pilots' mid-flight antics as "outrageous", according to public broadcaster NHK, and demanded that the defence ministry urge US forces to take immediate safety measures.
Jungen Tamura, a member of the Iwakuni city assembly, called for an immediate suspension of all flights from the base. "They're extremely dangerous behaviours," Tamura said, according to Kyodo. "They could cause an accident and (they) need to suspend flights immediately."