With nearly 800,000 customers affected in the largest shutdown this year, the utility is hoping to avoid a devastating fire season.
Amid fierce winds and dry conditions, the utility company that services more than a third of California will cut power to an unprecedented swath of the state as a preventive measure against wildfires.
And with Pacific Gas and Electric (PG&E) at fault for two of the deadliest wildfires in California's history in just the past two years, major power shutoffs are set to become a new normal for a state gripped by the climate crisis.
Starting early Wednesday, PG&Ewill shut off power to portions of 34 of the state's 58 counties, affecting almost 800,000 homes and businesses. The preventive shutoff will not be the first the utility has undertaken this year, but it will be the largest, with parts of Silicon Valley and the coast affected.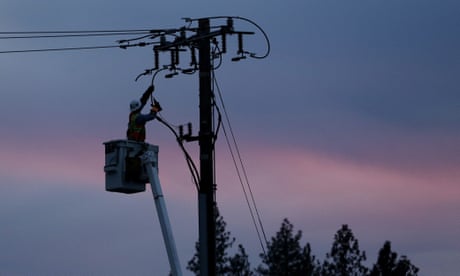 California utility cuts off power to thousands amid wildfire threat
Read more
"I wish we weren't in a situation where, in maybe one of the wealthiest jurisdictions in the world, we are turning power off to large swaths of the population every few weeks," said Michael Wara, director of the Climate and Energy Policy program at Stanford University. "But it is better than what we've been through, and I very much hope that we get through this fire season without a repeat of 2017 or 2018."
PG&E declared bankruptcy in January, in part because of potential liabilities from its role in some of the 2017 northern California fires and the 2018 Camp fire that killed a total of 129 people and destroyed tens of thousands of homes.
Investigators traced the origins of some of the 2017 fires to trees falling on power lines, in some cases trees that should have been cleared by PG&E because of their proximity to the lines. In the Camp fire, a tower constructed in the 1920s, well past its projected lifespan, was implicated as the cause.
The utility has submitted plans to update its infrastructure, moving its poles and power lines underground in areas of high fire risk, as well as plans to trim vegetation where it could affect its lines and conduct more safety inspections of existing infrastructure.