IPFS News Link • Canada • https://www.zerohedge.com
On Thursday morning Beyond Meat punished short-sellers, again, this time with a press release, stating that it has signed an exclusive agreement with McDonald's to test new plant-based burgers in Canada.
McDonald's will be conducting a 12-week test of a new plant-based burger called the P.L.T. (Plant. Lettuce. Tomato). The new P.L.T. will be available in 28 restaurants across Southwestern Ontario, starting next Monday [September. 30].
"McDonald's has a proud legacy of fun, delicious and craveable food—and now, we're extending that to a test of a juicy, plant-based burger," said Ann Wahlgren, McDonald's Vice President of Global Menu Strategy. "We've been working on our recipe, and now we're ready to hear feedback from our customers."
The P.L.T. has no artificial colors, artificial flavors, or artificial preservatives, it's a great-tasting "open wide and sink your teeth into it" sandwich, said, Wahlgren, adding that it'll be priced around $5.
Shares of Beyond Meat were up nearly 20% on light volume at 7:37 am est., while McDonald's was flat.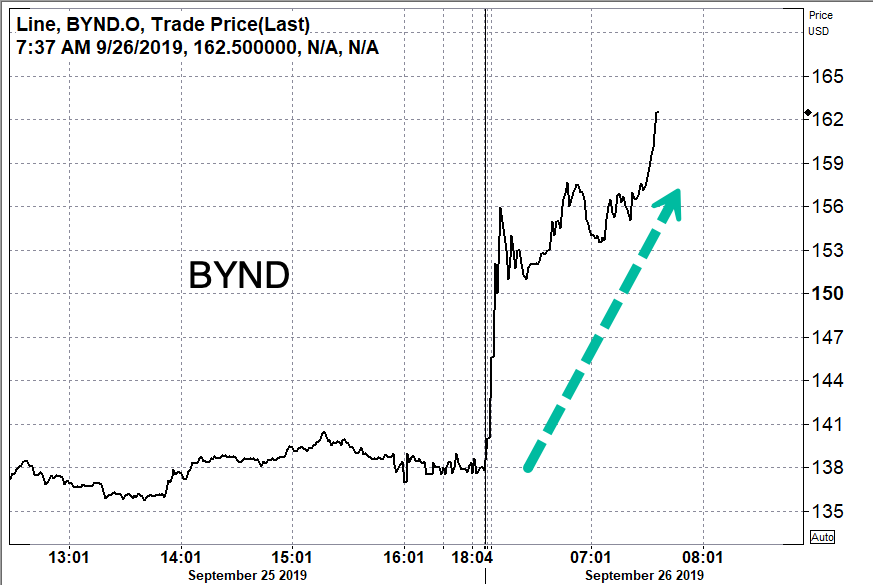 As of September 12, short interest in Beyond Meat was 5.452 million, or a whopping 42% of the float, explains why any press release with a major fast-food chain can pop the stock on relatively low volume.