Well, that certainly escalated quickly.  On Wednesday we were told that Hurricane Dorian would only be a Category 3 storm when it hits the Florida coastline, but now we are being told that it will be a Category 4 storm.  Hurricane Dorian is rapidly gaining strength over very warm waters in the Atlantic Ocean, and the latest forecast has it making landfall somewhere along the east coast of Florida on Monday.  If it is officially a Category 4 storm when it arrives, it will be the most powerful storm to hit the east coast of Florida since Hurricane Andrew in 1992.  Dorian is being described as a "monster hurricane", and Florida Governor Ron DeSantis has already declared a state of emergency for all 67 counties in the state of Florida.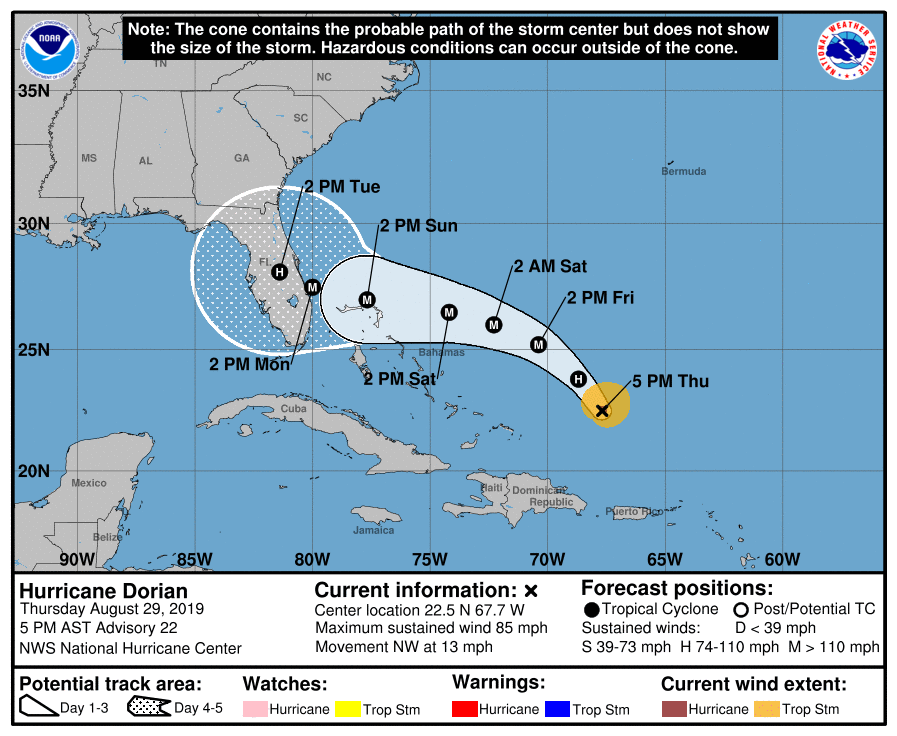 We will see how things develop over the next several days, but at this point it has become clear that Dorian has the potential to be an exceedingly dangerous storm.
In fact, President Trump himself is telling us that Dorian could be "perhaps one of the biggest" hurricanes that the U.S. has ever seen…
Hurricane Dorian looks like it will be hitting Florida late Sunday night. Be prepared and please follow State and Federal instructions, it will be a very big Hurricane, perhaps one of the biggest!
The reason why meteorologists are so concerned is because Dorian will be traveling over extremely warm waters for the next 48 hours, and that means that we should see "steady intensification during the next 2 to 3 days"…
"The warmer the water, the more moisture is in the air,'' the website for the National Oceanic and Atmospheric Administration says. "And that could mean bigger and stronger hurricanes.''
The weather service said current conditions in the Atlantic "should allow for at least steady intensification during the next 2 to 3 days.''