However, it is important to remember that Wasserman-Schultz and Snipes are merely the public faces of an extensive, deeply problematic system of corruption. It is then also essential to understand who, and what mechanisms, have allowed figures like Wasserman-Schultz, Snipes, the Awan brothers, and others to go unprosecuted.
This issue became clearer earlier this week when former congressional candidate Tim Canova Tweeted: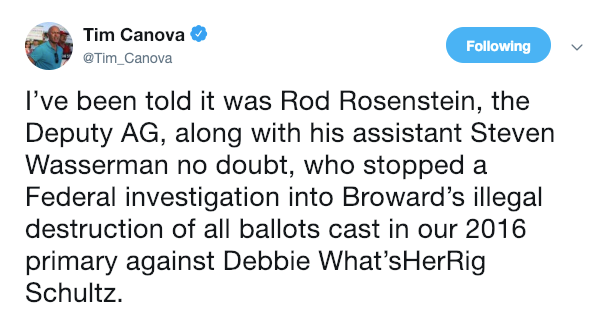 As readers may recall, Snipes illegally destroyed ballots from the 2016 primary race between Wasserman-Schultz and Tim Canova. The Sun Sentinel explained Snipes's direct involvement in the destruction of ballots, writing:
"Canova, who was checking for voting irregularities in the race, sought to look at the paper ballots in March 2017 and took Elections Supervisor Brenda Snipes to court three months later when her office hadn't fulfilled his request. Snipes approved the destruction of the ballots in September, signing a certification that said no court cases involving the ballots were pending. Snipes called the action a "mistake" during testimony she gave in the case, saying the boxes were mislabeled and there was "nothing on my part that was intentional" about destroying the contested ballots."