If you blink a couple times, or let yourself be distracted by your ears popping as the high-speed elevator rises 102 floors in 47 seconds, you might very easily miss it. The only mention of the Twin Towers, and their destruction on 9/11, flashes past you in a heartbeat.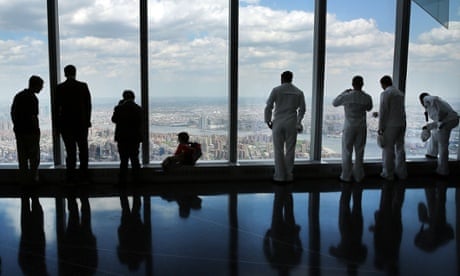 New York's One World Observatory - in pictures
View gallery
It comes towards the end of a multimedia depiction of 500 years of New York history that is displayed as a panorama as you shoot up to the Observatory, the new viewing station at the top of One World Trade Center that opens to the public on Friday. As you rise up the building the view of downtown Manhattan transitions digitally in front of your eyes from grassy swamp, through early village settlements, to sprouting skyscrapers.
And then suddenly the Twin Towers emerge, somewhere in the late 1960s, only to vanish about three seconds later.
And that's it. There's no other reference to that dreadful day, to the more than 2,700 people who died, or to the epic and at times ugly struggle to rebuild at Ground Zero that followed, culminating with the construction of the tallest building in the western hemisphere at the top of which we are now standing.
What there is, is a paean to height. New York is back up in the clouds, the message clearly states, so let's celebrate.
The views are certainly worth celebrating. On a clear afternoon, as Tuesday was, with just a slight haze in the air, you truly can see for miles.
To the south your eye drifts over Lady Liberty waving as the Staten Island ferry chugs along in diminutive form like a toy tug in a bath. To the east the super-fashionable neighborhoods of Brooklyn look as though you can reach out and grab an artisanal coffee, while farther out, fly-sized jets buzz over JFK.