AZ Breakfast Club - Sat April 6th, 2019, 8-11 am - Speakers Dr. Alan Palmer and Mike Gibbs
THIS MEETING IS OPEN TO THE PUBLIC - ANYONE CAN ATTEND - NO MEMBERSHIP NEEDED...  THE PRICE FOR THE MEETING IS $5.00 - No Buffet - Individual orders from the menu!
The meeting of the Arizona Breakfast Club will be held at our new location: Denny's Restaurant. 7000 E. Mayo Blvd, Scottsdale (Scottsdale Rd & the 101 - North. See map below.) Saturday April 6th, 2019. Breakfast 08:00 to 9:00 AM, Program from 9:00 AM to 11:00 AM.
Topic/Speaker: Join us this next Saturday, April 6th, 2019, for the next installment of the Arizona Breakfast Club. Our featured speakers will be 
Dr Alan Palmer (Local Chiropractor for 30+ years) wrote an eBook '1200 Studies' where Thousands of Scientists and Researchers Weigh in on 'To Vaccinate or not to Vaccinate' - Mike Gibbs (works on conservative causes at the AZ Legislature) on doing away with the vaccine exemptions in Arizona. Mike provides an update
Info on the speakers:
Dr Alan Palmer:
Dr Palmer on the Declare Your Independence with Ernest Hancock Radio Show: https://www.freedomsphoenix.com/Media/256403-2019-02-20-02-20-19-james-corbett-tim-picciott-dr-alan-palmer.htm
Get Your FREE Copy of 1200 Studies Right Here!
Get this FREE 550 page interactive eBook containing excerpts from over 1,200 published PubMed studies, containing thousands of references. The science contradicts what we are being told by many medical doctors, the media, our government officials and the pharmaceutical industry about the safety and effectiveness of vaccines. We are told time and time again, that vaccines are extremely safe and effective and the the "the science is settled" on the matter. Well I have news for those who think so. There are thousands of scientists and researchers that disagree. And, you are about to meet them and hear what they have to say. The bottom line is that THE SCIENCE IS FAR FROM SETTLED! I have spent nearly 2 years compiling this exposé, with the goal of sharing it with the world. Please read the introduction below describing the looming crisis we face, and the reason I have undertaken this massive fact finding effort.
You can download the FREE eBook either here at the top of the page, or at the bottom. Before you download it, I would love for you to scroll down and read about the dire circumstances we face and the reasons I created this project. That's also where you will learn how you can get the most out of the 1200 Studies eBook in the least amount of time.
Trouble Downloading? Click Here!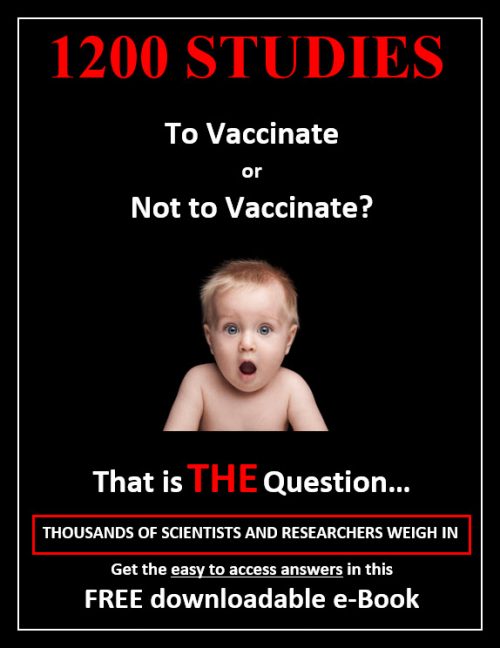 1200 Studies
Thousands of Scientists and Researchers Weigh In…
to Shed Light and Truth On One of The Most Hotly Debated Topics of Our Time
This is the most extensive and well documented exposé ever, about one of the most controversial yet important topics of our time. The amount of studies and research on this subject is overwhelming, but I have done all the work for you and found a way to present it, so it will be easy for you to quickly and easily navigate to exactly what you want to read. It's like getting the cliff notes for a textbook and being given the "hotlinks" that will take you directly to the sections that interest you, and to the studies that are being quoted from. That way it will be easy for you to verify if what you are being told is true!
You are about to have FREE direct access to hundreds of studies and indirect access to thousands of studies through the references in those studies. As you will see these studies differ, and in many cases widely differ from what we are currently being told about the safety and effectiveness of vaccines.
We Face a Crisis of Unprecedented Proportions
We are facing an unprecedented crisis in our nation and the Western world. There has been a meteoric rise in the rates of autism, developmental delays, learning disabilities, allergy, asthma, autoimmune diseases and more in the way of chronic and debilitating diseases. And tragically, we are losing a large portion of the next generation of children to neurological, neurodevelopmental, behavioral and learning disabilities. According to statistics released by the CDC in 2008, 1 in 6 children suffered from either autism or some form of developmental problem! Now 10 years later, given the increasing prevalence and current estimates, that number may be as high as 1 child in 4! And, those statistics show that these developmental delays including behavioral and learning disabilities are continuing to increase at alarming rates. And, all of the learning and behavioral conditions have a prevalence much higher in boys. In addition, all across the spectrum, the rates of allergy, asthma and autoimmunity are nearing epidemic proportions. Autoimmunity is where the body's immune system attacks certain tissues or organs. There have been over 100 autoimmune diseases identified now, affecting more than 50 million Americans (that is approximately 1 in 6). The prevalence continues to grow at alarming rates. And, autoimmune diseases have a much higher prevalence in females. (All references are provided in the eBook)
Autism Spectrum Disorder (Autism), is just one of those many conditions that are affecting our children. But it is the condition that get most of the press. The incidence of autism is rising sharply and unabated. The 2014 CDC estimates were that 1 in 45 children were autistic (NHIS data), up from 1 in 150 in 2002 (ADDM Network data), just 12 years prior. Compare that to rates of autism estimated at 1 in 10,000 in the 1950s and 1960s, 1 in 5,000 in the 1970s and increasing to 1 in 300 in the 1990s. (references provided in the eBook)
When the 2018 statistics come out in less than 2 years, it is expected that the rate of autism may be as high as 1 in 25 children, with approximately 4 times as many boys than girls being affected. That means that approximately 1 in 5 boys will be on the autism spectrum!! Many experts believe at the current trajectory, somewhere between the years 2025 and 2032, 1 in 2 boys will be autistic!! In addition, consider the crippling rates of other intellectual disabilities just mentioned. This is COMPLETELY UNACCEPTABLE! And collectively, we have to do something to change that.
What would this mean for our society? For one thing, this will be an economic disaster. Even at the conservative projected costs of caring just for autistic individuals, these costs will cripple our economy. (outlined on page 2 of the eBook) – In addition to the crippling cost economically, can you imagine the impact on us socially, on militarily readiness and on the affected children and families themselves? What about our intellectual capacity to churn out scientists, inventors and business innovators for the years to come? The clock is ticking. Left unchecked, it is truly a doom and gloom scenario. We must get to the bottom of it and we must do it now! And by sharing this document, you can be a part of the driving force to make this happen.
=============================================================
The Arizona Breakfast Club
http://www.arizonabreakfastclub.org/
The Arizona Breakfast Club first came together, in 1969, founded by Harry Everingham. Harry had been a conservative activist since World War II, publishing the American Patriot and leading We The People, a national organization.
Harry came to Arizona from Chicago, and had been discussing the issues of the 1968 election campaign with friends over coffee. The discussions were good, and a decision was made to create a club for political discourse. The Arizona Breakfast Club opened its first public meeting in January of 1970 to fight for freedom in a patriotic forum where our faith in God, our constitutional republic, and productive economy would be championed. The club was to rally conservatives and to educate people about the state of the nation and their American Heritage of liberty.
Senator Barry Goldwater, Arizona's Statesman, and often one of our guests at the podium, best outlined our desires for good government when he said: "I have little interest for streamlining government or making it more efficient, for I mean to reduce its size. I do not undertake to promote welfare, for I propose to extend freedom. My aim is not to pass laws, but to repeal them. It is not to inaugurate new programs, but to cancel old ones that do violence to the constitution, or that have failed in their purpose, or that impose on the people an unwarranted financial burden. I will not attempt to discover whether legislation is 'needed' before I have first determined whether it is constitutionally permissible. And if I should later be attacked for neglecting my constituents' interests, I shall reply that I was informed that their main interest is liberty and in that cause I am doing the very best I can."